BY Herschel Smith

14 years, 10 months ago
It's important to understand what the war in Georgia is about – and what it's not about.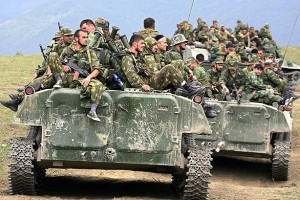 Russian troops sit on armored personnel carriers in the South Ossetian town of Dzhava on Saturday (Dmitry Kostyukov AFP/Getty Images). (TCJ: Some with beards, most with hair that's too long, many with different cammie patterns, different types of cover being worn (or no cover at all), and one "soldier" sitting at the back with purple socks and sneakers. They look like crap, ideal representatives of their thug-in-chief, Vladimir Putin).
The news accounts, blogs and blog comments are adrift with Russian-made propaganda. The Russian machine has saturated the media with its own account of the situation in Georgia, the bulk of it lies with what little truth there is being stripped from proper context.
The war isn't about Georgian violations of humanitarian law. To assume that Russia has a right to "protect its own borders from instability" is utterly to miss the point. The war isn't about escalation by the Georgian President, Mikheil Saakashvili, or some dream of grandeur he has. The war isn't even about an oil pipeline, per se, although that makes a nice catch in the process and increases their control over the region's oil supply. Control over the oil pipeline results from Russian hegemony rather than causes it.
Vladimir Putin is the strongman behind the curtain. He is a murderer, liar, thug and criminal. Russian President Medvedev is merely a puppet, and does the bidding of Putin. Putin has long held that "First and foremost it is worth acknowledging that the demise of the Soviet Union was the greatest geopolitical catastrophe of the century." He wishes the world to negotiate and reason from this as an axiomatic irreducible, our unquestioned starting point. But Russia never had any claim to Georgia to begin with, and the criminality of the Soviet Union only reinforces the point that we mustn't play the devil's game. We must not allow Putin to set the theoretical framework for the debate and confrontation.
There has been plenty of dialog and negotiation with Russia, and Georgia hasn't been heavy handed, as we learned again today from the Georgian President in a commentary in the Wall Street Journal.
The Kremlin designed this war. Earlier this year, Russia tried to provoke Georgia by effectively annexing another of our separatist territories, Abkhazia. When we responded with restraint, Moscow brought the fight to South Ossetia.

Ostensibly, this war is about an unresolved separatist conflict. Yet in reality, it is a war about the independence and the future of Georgia. And above all, it is a war over the kind of Europe our children will live in. Let us be frank: This conflict is about the future of freedom in Europe.

No country of the former Soviet Union has made more progress toward consolidating democracy, eradicating corruption and building an independent foreign policy than Georgia. This is precisely what Russia seeks to crush.

This conflict is therefore about our common trans-Atlantic values of liberty and democracy. It is about the right of small nations to live freely and determine their own future. It is about the great power struggles for influence of the 20th century, versus the path of integration and unity defined by the European Union of the 21st. Georgia has made its choice.

When my government was swept into power by a peaceful revolution in 2004, we inherited a dysfunctional state plagued by two unresolved conflicts dating to the early 1990s. I pledged to reunify my country — not by the force of arms, but by making Georgia a pole of attraction. I wanted the people living in the conflict zones to share in the prosperous, democratic country that Georgia could — and has — become.

In a similar spirit, we sought friendly relations with Russia, which is and always will be Georgia's neighbor. We sought deep ties built on mutual respect for each other's independence and interests. While we heeded Russia's interests, we also made it clear that our independence and sovereignty were not negotiable. As such, we felt we could freely pursue the sovereign choice of the Georgian nation — to seek deeper integration into European economic and security institutions.

We have worked hard to peacefully bring Abkhazia and South Ossetia back into the Georgian fold, on terms that would fully protect the rights and interests of the residents of these territories. For years, we have offered direct talks with the leaders of Abkhazia and South Ossetia, so that we could discuss our plan to grant them the broadest possible autonomy within the internationally recognized borders of Georgia.

But Russia, which effectively controls the separatists, responded to our efforts with a policy of outright annexation. While we appealed to residents of Abkhazia and South Ossetia with our vision of a common future, Moscow increasingly took control of the separatist regimes. The Kremlin even appointed Russian security officers to arm and administer the self-styled separatist governments …

Just this past spring, we offered the separatist leaders sweeping autonomy, international guarantees and broad representation in our government.

Our offers of peace were rejected. Moscow sought war. In April, Russia began treating the Georgian regions of Abkhazia and South Ossetia as Russian provinces. Again, our friends in the West asked us to show restraint, and we did. But under the guise of peacekeeping, Russia sent paratroopers and heavy artillery into Abkhazia. Repeated provocations were designed to bring Georgia to the brink of war.

When this failed, the Kremlin turned its attention to South Ossetia, ordering its proxies there to escalate attacks on Georgian positions. My government answered with a unilateral cease-fire; the separatists began attacking civilians and Russian tanks pierced the Georgian border. We had no choice but to protect our civilians and restore our constitutional order. Moscow then used this as pretext for a full-scale military invasion of Georgia.
Vladimir Putin wants to reconstruct the Soviet Union, his ultimate design ever since taking power. President Bush's response is weak: "I expressed my grave concern about the disproportionate response of Russia and that we strongly condemn bombing outside of South Ossetia," the US president told NBC television. But again, it isn't a matter of a disproportionate response. Russia has no right to have forces deployed within the borders of Georgia.
As this is being written, Georgia has been effectively cut in half by advancing columns of armor, and Russia is demanding that Georgia disarm. One of the clearest explanations of the high stakes war that is being fought comes from an unnamed State Department representative (courtesy of Scott Johnson at Powerline).
This is a huge event, and our inaction has been a disgrace. Have you noticed that Secretary Rice and President Bush's responses have virtually mirrored Senator Obama's recommendations? It is heaps of shame on the current administration for letting a close ally dangle like this, and is instructive of just how bad an Obama foreign policy would be …

Your last post on the energy route made an important point. Georgia is important to the West for more than just political reasons. It is an incredibly strategic location. That pipeline is an independent source of energy for the West, and an independent source of income for countries in the Caspian Basin. It allows them to have an independent foreign policy. It gives, say, Azerbaijan and Kazakhstan the freedom to allow US arms to fly across their territory on the way to Afghanistan. Did you know that Russia forbids the transport of US military hardware across its territory, even by plane? Of course, Iran does too. Look at a map and think of where the large US logistical bases are located (Germany). That leaves only a narrow corridor — across Georgia and Azerbaijan — that we can use to supply our troops in Afghanistan.

There's another point here. Russia is best influenced from Tbilisi, Astana, Kiev, etc. — not from Moscow. Russia is a bully. It does not respond to demarches, security council rebukes and harsh denunciations …

Russia has been angry that Georgia and its other former Soviet colonies haven't been bowing to Russian control. Russia is out to teach them a lesson.

And that's precisely why this attack is a swipe at the US. President Bush made Georgia one of his signature projects. One of the very first decisions Bush's security council made in 2001 was on Georgia. Georgia's progress over the last few years have been awe-inspiring and President Bush can very plausibly take a significant amount of credit for that. The Georgians sure think so. They renamed the main street in downtown Tbilisi after him. They sent troops to help us in Iraq, Afghanistan and Kosovo. Russia is punishing Georgia for cozying up with the US, and telegraphing the message to the rest of its neighbors: listen to us and not the Americans.

Given the weak response from the US, who do you think Russia's neighbors are listening to right now? Countries like Estonia or Kazakhstan are going to be terrified over this. Or think about the Czech Republic who just fought a very contentious political battle to allow missile defense radars (the Russian Chief of Staff of the Army threatened an invasion!) . Poland has yet to sign an agreement to allow missile defense interceptors on their soil. What do you want to bet the price just went up? NATO has also been silent. What does that mean for countries like Ukraine who have asked to join, bucking Moscow's decree not to do so or else. The message is clear: don't go too far out on the US' limb because they won't back you up. (and what kind of lesson will Israel take away from this?)

Put into the context of Russia's recent behavior — the polonium poisonings, trying to kill a pro-Western presidential candidate in Ukraine, shutting off energy supplies to Europe, high tech arms transfers and nuclear know-how to Iran, strategic bomber runs into Alaskan airspace, etc., etc., etc. – this is very serious indeed. Russia responds to resistance and pushback, not "strong denunciations." So far they've only found an open door.
This State Department representative "gets it." There is a much larger plan being implemented than just Georgia, and it has to do with Russian hegemony. As for the Georgians? They sent several thousand troops to assist Operation Iraqi Freedom, and are asking why the U.S. wouldn't now come to the aid of Georgia? Indeed. The balance of the world may very well be asking a similar question for their help to the U.S.
Below are some scenes of Russian "peace keepers" and their handiwork.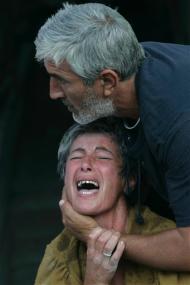 An unidentified crying Georgian woman is calmed by her husband after finding out that her child was killed in a neighboring village, in the town of Gori, Georgia (AP, Sergei Grits)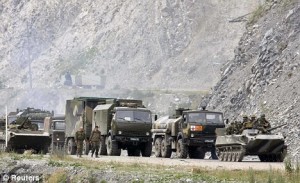 Russian armor column (note that the column is out in the open and highly susceptible to being chopped to small pieces by A-10s with its faster kill chain) (Reuters)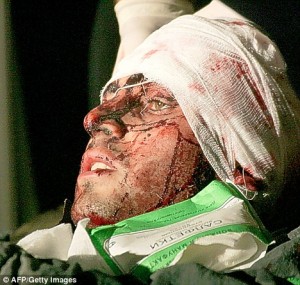 Wounded Georgian Soldier (AFP)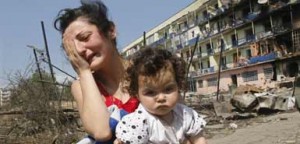 A mother and child in the ravaged Georgian city of Gori, where at least 17 people were killed at the weekend when Russian jets bombed apartment blocks (David Mdzinarishvili/REUTERS).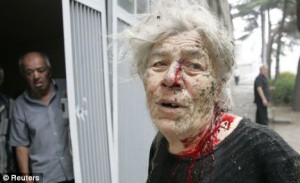 An injured woman stands next to her bombarded home (Reuters)