BY Herschel Smith

14 years, 3 months ago
The Captain's Journal is extremely disappointed in the former Sergeant Major of the Marine Corps.  But before addressing our disappointment, some background.  Normally as a Milblog we are dealing with issues in counterinsurgency, weapons and tactics, policy, strategy, and connections in the global war on terror.  Only infrequently do we weigh in on political matters.  In this case, it seems appropriate to break with tradition if only momentarily.
If we can leave behind the ugly picture of Jeremiah Wright screaming "God damn America" from the pulpit of his church or humping the pulpit (video here), Obama's tactics for addressing his Pastor's indiscretions are irrelevant, as are his claims that he wasn't present when the words of hate were screamed.  The focus on examples misses the point, although there are probably copious quantities to go around.
Jeremiah Wright has said very clearly that he is a proponent of liberation theology.  This strand of thought began mid-twentieth century in Latin America as a synthesis of Marxism and Christian trappings and words.  It has since evolved beyond that into a bizarre mixture of this plus a glorification of pre-Christian cultures and religions,  concern for earth worship, struggle for the land, and ecology.
But at its heart it still holds premier the notions of redistribution of wealth and class warfare.  If Obama could somehow claim that he doesn't hold to any of these things or that his pastor has somehow moderated the messages he delivered from this more radical bent, then it can be countered that Obama has shown that he knows what the social gospel is, declaring that Wright's "character is being assassinated in the public sphere because he has preached a social gospel on behalf of oppressed women, children and men in America and around the globe."
The social gospel is the earlier American version of Marxism mixed with the trappings of Christianity.  We turn to one of the foremost scholars on theology and American history, C. Gregg Singer in his A Theological Interpretation of American History for a few words on the social gospel.
Sin [is] no longer a "want of conformity unto, or transgression of, the law of God" but the result of ignorance in which man failed to live up to the highest and the most noble that was within him … according to this conception the church was to help each individual work out for himself that salvation which nature had placed within his grasp and which he should direct toward socially desirable ends.  Salvation was henceforth regarded as largely social in content and purpose, and only incidentally individual in nature.  True enough, a major change of purpose and motivation was to take place in individual lives, but this was not an end in itself, but only a means toward an end – the perfecting of society here on earth.
Jeremiah Wright's church espouses exactly this liberation theology / social gospel even now on its web site.  A survey of their mission statement reveals nothing of redemption, salvation, regeneration, faith and repentance, but rather of world change through the collective.
We are called out to be "a chosen people" that pays no attention to socio-economic or educational backgrounds. We are made up of the highly educated and the uneducated. Our congregation is a combination of the haves and the have-nots; the economically disadvantaged, the under-class, the unemployed and the employable.  The fortunate who are among us combine forces with the less fortunate to become agents of change for God who is not pleased with America's economic mal-distribution!
The fact that, say, Job and Noah were very wealthy men is not relevant to Wright because it doesn't easily fit within the framework of his system of income and wealth redistribution in the name of religion.  Obama clearly knows that his church stands for this socialism, as he said it himself.  When the truth is laid bare, Obama is shown to be little more than a proponent of class warfare.  Wright's church isn't about being a catalyst for redemption.  It's all about "show me the money."
Back to the Sergeant Major of the Marine Corps.  He has formally endorsed Obama for President (far left in the photograph below).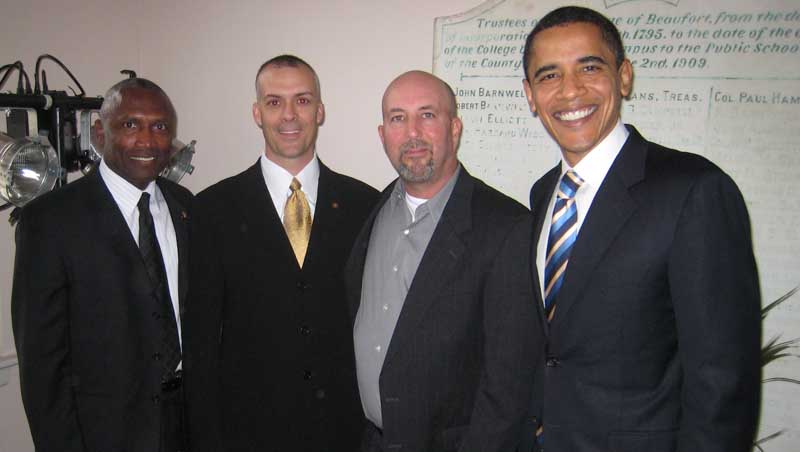 Just eight months after taking off his uniform, the recently retired 15th sergeant major of the Marine Corps is jumping into the campaign fray, stumping for Sen. Barack Obama and echoing the Democratic candidate's call for pulling troops out of Iraq.

"I stood up and I said I agree with him when he said we should pull out of Iraq. I think it's time for the Iraqis to stand up and take charge of their own country," retired Sgt. Maj. John Estrada said in a telephone interview Feb. 25.

"He's not talking about snatching everybody out of there. He said he will do it over a 16-month period. He will deploy the troops to places where they're needed, like Afghanistan. … He's a guy who will use force reasonably," Estrada said.

Estrada, 52, was the highest-ranking enlisted Marine for nearly four years before retiring in June 2007 after 34 years.

He formally endorsed the Illinois senator for president of the United States during a rally at a high school gymnasium in Beaufort, S.C., on Jan. 24. Estrada served twice at Marine Corps Air Station Beaufort and is well-known among the locals there.

He planned to campaign again for the senator in Texas on the weekend preceding the critical March 4 primary between Obama and New York Sen. Hillary Clinton.

"He has this — I want to call it a unifying force. I see him uniting our country more so than the others. Old, young, across all ethnicities," Estrada said.
One wonders how Estrada sees this "unifying force" now.  It would have been honorable if he had stumped for the renewed and revised G.I. bill being worked on by Peter King, or for lighter body armor, or for a replacement for the M16A2 / M4 / SAW, or better yet spent his time visiting wounded warriors at their bedside.  If he found it necessary, then he could have engaged in the debate about force presence in Iraq and weighed in with all of the vigor of the highest ranking enlisted man in the Marine Corps.
Instead he chose to shill for a politician, and a Marxist one at that.  It is a sad time in American history when, despite admonitions to pray for the civil magistrate (WCF XXIII), pastors publicly denounce the same and call on God to damn them.  It is made all the more sad when a respected warrior aligns himself with a person who is aligned with such things.  Respected warrior no more.