BY Herschel Smith

15 years, 5 months ago
There is yet another discussion thread at the Small Wars Journal that convinces me that I must try one more time to explain the involvement that coalition forces should have with culture and religion in a counterinsurgency campaign.  Much confusion swirls around this issue because, in part, people reflexively respond (a) by assuming that you are calling for a holy war, or (b) assuming that your mindset is one of a social scientist hunting for another lever to pull or button to push to cause certain reactions.  The former category reacts to my modest proposal by denying that religion should have any role in how one man relates to another, with the later category honestly attempting to engage the issue, but as counterinsurgency professionals using ideas such as center of gravity and societal power structure.  Neither camp really gets it yet.  So let's use two simple examples that might show how religion and cultural understanding might aid the counterinsurgency effort in Iraq.  These examples are not meant to be sweeping or comprehensive, nor am I constructing doctrine in a short, simple little article.  I am attempting to make this simple rather than complex.
In the first example, I will imagine that I am a chaplain in Iraq serving U.S. troops.  I will endeavor to ensure that the spiritual and life issues of the men under my responsible charge are squared away, but along with this, I approach my Commanding Officer and ask to arrange a meeting between the local Imam and me.  The meeting is arranged, and begins with me thanking the Imam for meeting with me, and telling them that even though I am Christian, I am very impressed by the 'smartness' of the Kalam cosmological argument, and that the Islamic scholars who teach this have reason to be proud.  We share food and talk about family, and then I request that he teach me something of his faith.  The reason, I share with him, is that I want to ensure that the men who represent the United States act with honor.  There will be many cultural and religious things of which they are unaware, and families, the man of the house, and women might take offense to actions behind which there was no intention of causing such a reaction.  He can tell me things that he would not say to the Commanding Officer, I tell him, and he can trust me with confidentiality.  I will work with the CO or simply with the men, but work I will, very hard, to ensure that no offensive action is taken that would violate the religious sensibilities of his people.  I know that this can work, since a national religious conference has already occurred, put on by the Department of Defense at the request of Muslim clerics who approached our Chaplains as fellow holy men.  I am but a single Chaplain, but I believe that I can take the intent behind the national conference and apply it at a local level.  Finally, I end my meeting with the Imam by requesting a series of meetings so that I can learn his faith and work with him and his people to ease their suffering to the extent that I am capable.
In the next example, it is the year 2004 and Sadr is in the custody of U.S. Marines (the Marines of 3/2).  I know that there is a large group of Shi'a who are moderate, and in fact, many Sunni look upon them as uncommitted Muslims.  I also know that many see the Sunni as hardened Muslims who follow the Salafist or Wahhabist jihadist traditions.  But as a religious man who has his attenna up with these things, I know that these generalized views can lead to very wrong conclusions.  I know that the Sunnis of Western Iraq are much more secular than the Sunnis in Saudi Arabia, and want none of the radicalism of the hard line schools.  Recently slain Sheikh Abdul Sattar Abu Reesha was a chain smoker whose hands would have eventually been cut off by the jihadists to stop him from his smoking.
On the other hand, I know that Sistani has not yet met with coalition forces or representatives of coalition forces because we are the "great Satan."  Likewise, Sadr is a believer in a form of radical Shi'ism that comes from the Mullahs in Iran, and can be trusted only to subvert a stable Iraq that allies with the West against religious extremism.  I manage to convince coalition authorities not to release Sadr.  In this example I manage to use my knowledge of religion to diagnose which sect can be trusted and which cannot.
Such can be the results of a religious understanding between coalition forces and the people of Iraq.  This understanding can be there if it is not contrived or forced, as some sort of tool of counterinsurgency appealing to societal power structures or centers of gravity in order to persuade the Iraqis to do something or be a certain way for us.  I am in favor of honest and open dialogue in military matters concerning the enemy, and likewise in matters religious and cultural.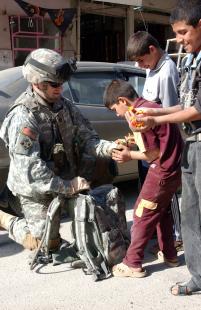 Chaplain (CPT) William Johnson, the 1-8 Combined Arms Battalion chaplain, gives candy to Iraqi children on the streets of Balad.
See also Chaplains as Liaisons with Religious Leaders: Lessons from Iraq and Afghanistan.