BY Herschel Smith

15 years, 9 months ago
Picture h/t Fortress Australia Outpost.
In A-10s Aid in Counterinsurgency, I discussed the new role for A-10s being considered by the USAF: Counterinsurgency.  I followed this up with Faster Kill Chain, in which I briefly discussed the changes occurring to take the Hog from the analog to the digital age.
Defense Industry Daily has an article on the higher-tech Hog that is a good primer on the changes occurring to make it suitable for its new intended purpose.  The new cockpit layout is shown below.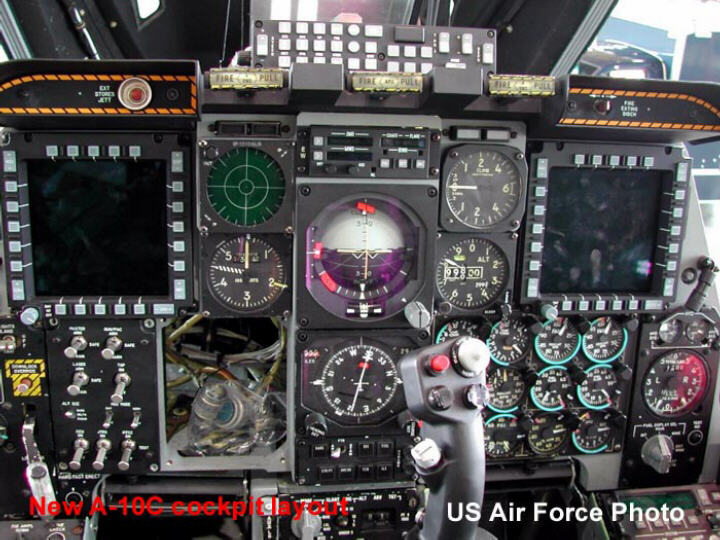 One significant new feature is the ability to target, task and talk (my words, not Defense Industry Daily).
Another very significant Increment 3.2 upgrade involves Raytheon's SADL data link. SADL was added after the A-10 Precision Engagement program requirements were finalized, which is usually a predictor of trouble. Instead, it went from requirements to delivery in just 17 months, thanks to a general sense of urgency and extraordinary contractor efforts. Those efforts included hardware purchases by Lockheed Martin before they had a government contract to do so, putting their funds at risk but ultimately shortening project completion by 6 months.

SADL automatically sends and receive data from the Army Enhanced Position Locating and Reporting System (ePLRS) that is part of FBCB2, a.k.a. "Blue Force Tracker." This means that friendly troops on the ground receive the plane's position and altitude, while the 5 closest "friendlies" will show up on the aircraft's heads-up display and/or multi-function cockpit displays at the beginning of an attack. SADL also offers Link 16 integration with other fighters and air defense systems, allowing the A/OA-10C to automatically known receive position data for enemy aircraft, air defenses, and other targets – including targets beyond its range of sight. Link 16 and SADL share information via gateways, which are land-based or airborne portals that permit the transfer of information between different formats. The USAF adds that:

"A command and control platform—such as the 12th Air Force Air Operations Center here—can send digital communication via SADL to the A-10C for a variety of purposes. Tasking messages, targeting information, threat warnings, and friendly locations can all be sent and received by the A-10C. Additionally, the A-10C is the only platform with the ability to task other fighter platforms to attack targets."

Given past A-10-related friendly fire incidents, the appeal of a system like SADL is obvious. Major Drew English, the USAF program manager for A-10C Precision Engagement, told Military Aerospace Technology that:

"I would say the biggest [change] we have coming impact wise is the data link. It will shape our tactics and it bring us into a new era, probably as much as night vision goggles did when we got those in the mid-'90s"
We'll see if it can live up to its billing.  It own history sets a very high standard.