BY PGF

1 year, 3 months ago
Via WRSA, Ukraine may be America's Lious XVI moment. It's cautionary to learn history, but governments never realize what they are doing. Maybe this one does and is satisfied with destroying us. The article is about the new swarm of IRS agents being hired. But, interesting and worth understanding is the parallel to France at the close of the US Revolution.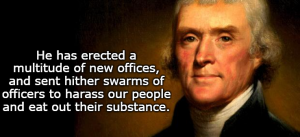 The cost/benefit just doesn't compute. And that's why healthy, prosperous nations don't engage in such absurd activities. They don't need to.

Taxes ultimately represent the government's 'slice' of an economic pie. So when a country is prosperous and an economy is strong, the government's slice continues to grow because the overall economic pie is constantly getting bigger.

But nations in decline don't see it this way. For them, the pie is shrinking. So they think the only way to increase their slice is to go after other people's crumbs.

History shows this is absolutely the wrong move. Raising tax rates, inventing new taxes, and recruiting armies of tax collectors only makes the pie shrink even more.

Their efforts, instead, should be focused on making the pie bigger. But they don't think that way.

Bear in mind this is all brought to you by the same people who are shoveling your tax dollars out the door to Ukraine $50 billion at a time. It's very 'Louis XVI' of them.

All of these trends—the cannibalistic surge in tax authorities, the anti-productive regulations, the economic scarcity mentality—are all hallmarks of an empire in decline.