BY Herschel Smith

5 years, 6 months ago
Dear Marty,
I see that you weighed in with support for the "fix-NICS" bill.  I was sad to see this, so I wrote you a note that went something like this (in abbreviated form).
Sir,

I feel that this will be a huge mistake and I wish there was a way to undo this.  Unfortunately, there isn't.  My readers have already sent me this information, and I was wondering if there was anything I could say to them about this?
I haven't received a reply from you Marty, but I assume you've been busy, sir.  I also assume you've heard an earful about this, because you've withdrawn your support.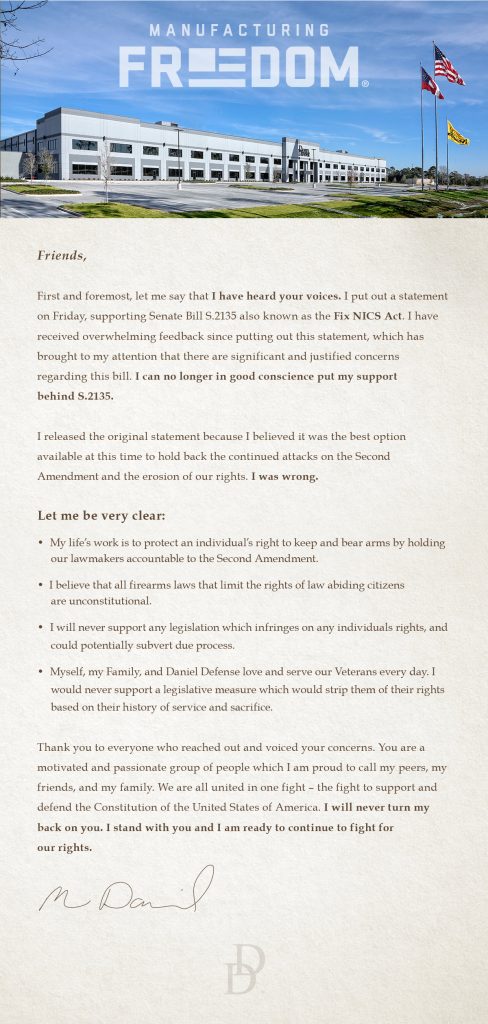 Very well.  I'm a forgiving sort of person and it's the same position I took on Rock River Arms when they flirted with gun control in their own state, intentionally or not.  I've made many mistakes in my life, and my aim is to learn from them all and become a better person.
But this episode requires a little bit of unpacking.  You clearly demonstrated bad judgment in the initial endorsement of this bill.  I know that you are a Christian and a defender of the gospel of Jesus Christ.  This means a lot to me, and more than anything else will earn my trust and patronage.  This is also why I recently purchased a CMMG gun – they are a Christian company too.
As a Christian, you must be wiser and more circumspect than those around you.  You cannot be thrown about by the shifting tides and the changing winds.  You must understand that the results of the fall in Adam and his federal headship over all mankind causes sin, and sin causes the very things that the progressives use to foist their schemes of control over others.
You must understand that firearms were ubiquitous in early schools, so much so that gun clubs were a thing.  The changes wrought by society are entirely due to rejection of the very gospel that you claim to support.  And no rejection of the gospel can be repaired or ameliorated by a law or new scheme of control.
Gun control is evil in all of its forms.  It was Dr. Greg Bahnsen who pointed out the utter wickedness of gun control schemes.
The Bible does contain a few direct references to weapons control. There were many times throughout Israel's history that it rebelled against God (in fact, it happened all the time). To mock His people back into submission to His Law, the Lord would often use wicked neighbors to punish Israel's rebellion. Most notable were the Philistines and the Babylonians. 1 Samuel 13:19-22 relates the story: "Not a blacksmith could be found in the whole land of Israel, because the Philistines had said, "Otherwise the Hebrews will make swords or spears!" So all Israel went down to the Philistines to have their plowshares, mattocks, axes, and sickles sharpened…So on the day of battle not a soldier with Saul and Jonathan had a sword or spear in this hand; only Saul and his son Jonathan had them." Nebuchadnezzar king of Babylon also removed all of the craftsmen from Israel during the Babylonian captivity (2 Kings 24:14). Both of these administrations were considered exceedingly wicked including their acts of weapons control.
Furthermore, you must understand that the progressives are incrementalists and have been at this a very long time.  They are patient in achieving their goals.  Here is a perfect example.
The only way we can truly be safe and prevent further gun violence is to ban civilian ownership of all guns. That means everything. No pistols, no revolvers, no semiautomatic or automatic rifles. No bolt action. No breaking actions or falling blocks. Nothing. This is the only thing that we can possibly do to keep our children safe from both mass murder and common street violence.

Unfortunately, right now we can't. The political will is there, but the institutions are not. Honestly, this is a good thing. If we passed a law tomorrow banning all firearms, we would have massive noncompliance. What we need to do is establish the regulatory and informational institutions first. This is how we do it.  The very first thing we need is national registry. We need to know where the guns are, and who has them.
This is why a registry is the Holy Grail for the progressive.  They won't stop with their initial victories.  Oh no.  In fact, they've told you so.  As for this so called "fix-NICS" bill, you must understand what while you might intend something like that for good, the state will never work it that way.
Any increase in the registry of people who cannot own guns will sweep into its chasm veterans who were diagnosed with PTSD, didn't know they were on a prohibited list (because Obama's VA reported them as prohibited), try to buy a gun, and then find out they have committed a felony and end up being arrested under this new bill.
Any increase in the registry will sweep into its chasm men and women who someone wanted to be on the list and [falsely] reported them as mentally defective, with the village witch doctors – or psychiatrists – employed by the state now an integral part of the process.
All of that bypasses the right of due process.  One of my readers observed this about court appointed mental health professionals.
Control freaks love psychiatry, a means of social control with no Due Process protections. It is a system of personal opinion masquerading as science. See, e.g., Boston University Psychology Professor Margaret Hagan's book, Whores of the Court, to see how arbitrary psychiatric illnesses are. Peter Breggin, Fred Baughman and Thomas Szasz wrote extensively about abuses of psychiatry. Liberals blame guns for violence. Conservatives blame mental illness. Neither have any causal connection to violence. The issue is criminal conduct, crime. Suggesting that persons with legal disabilities are criminals shows the nonsensical argument of this politician and his fellow control freaks. Shame on them.
And just today, another astute reader made this observation.
Just as a gun registry is a precursor to gun confiscation, a mental illness registry is a precursor to the "confiscation" of the mentally ill.

The denial of second amendment rights for a certain category of people is a precedent for the denial of any and all other rights held by people in that category.

All men have certain inalienable rights. U.S. citizens have those rights guaranteed in the Bill of Rights.

Denial or abridgement of those rights for any portion of the population, absent act or crime by each individual, is premised on a determination of one or the other of two things: 1) No human or citizen has any rights that may not be abridged or denied by government at will; or, 2) A certain segment of the population may be deemed to be neither citizens, nor fully human.
Our founders correctly believed that it's never a good idea to give the state more power, or to centralize what power does exist in the state.  If America is suffering from a lapse in moral constitution, it has nothing to do with the laws or lack thereof.  As a Christian, you know the corrective for that problem.
Again, you must be wiser than your opponents, if indeed the controllers are your opponents.  Even the so-called National Association of Evangelicals, which is anything but national or evangelical, has flirted with gun control because they want to be cool, hip, modern and progressive.  You need to be better and smarter than that.
When the teachers of religion go their own way, you need to remember the Bible.  When the state sings its siren song of more peace for more power, you need to remember that, as Dr. Bahnsen pointed out, all gun control is based in wickedness, and the state is always lying to you.
Please, please, please do not ever let this happen again.  It will take time and hard work to rebuild trust with the gun community.  Please invest the time and work to do just that.