BY Herschel Smith

4 years, 9 months ago
Remember I recommended hunting hogs to save the environment?  In Texas, a man is not only helping the environment, he's making things safer for himself.  From the Longview News-Journal.
A Union Grove man says he bagged the "big daddy" feral hog that was wreaking havoc on his property — all 416 pounds of him.

The Gregg County Game Warden's office posted photos on Facebook this week showing Joe Clowers' kill.

"This pig had been terrorizing his property for years — five or six," said Game Warden Todd Long. "So every time he went hunting, he took a little extra firepower in case it showed up. Well, this time, it showed up."

Clowers used a .223-caliber AR rifle to kill the pig.

The hog had preyed on the fawns in the area, and Clowers said he always stayed armed when visiting his deer feeders in case the hog in question charged him.

"My property lays between some populated areas, and I try to maintain an environment like a sanctuary or nursery for the deer to raise fawns," Clowers said.

"He was the big daddy. I called him the 'bush beast.' "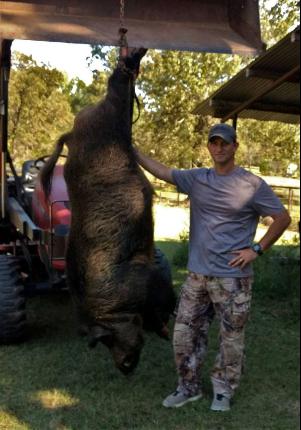 This is a big hog to take down with an AR-15.  I had wondered first of all where he shot him (was it a head shot?), and second, what ammunition he used?
Did he use standard 55 or 62 grain FMJ rounds, did he use 55 grain soft point rounds, or did he use heavier rounds such as the Hornady 75 grain or Sierra Matchking 77 grain?  I suspect there are a lot of folks who would like to know.
I ended up talking to the Upshur County game warden via telephone, and he thought that the hog was taken with a standard round, at which I commented that it must have been with a head shot although I couldn't tell anything from the pictures.  He agreed and said that he believed it was taken with a head shot.
Congratulations to Mr. Clowers.  Nice shot.  Nice hog.