BY Herschel Smith

5 years, 4 months ago
David Codrea:
"Gun-Totin' Left-Wingers Demonstrate at the Arizona Capitol," Phoenix New Times notes sympathetically. "Is Bloodshed on the Horizon?"

It's a report about "openly armed to the proverbial teeth" supporters of the Phoenix John Brown Gun Club, self-described as "Working to stem the tide of reactionary recruitment within white working class communities, fight white supremacy, & build liberatory community defense." That, in turn, references to Redneck Revolt ("Putting the RED back in redneck").

Basically, their "philosophy" is communist and globalist, against private property, capitalism and sovereign nations.
Go read the rest of David's article here.
I had seen this too and was planning on commenting on it, but I'll dovetail my comments with David's.  They are also self-described anarchists.  Anarchists my ass.  They are toting a few guns.  They got there by riding some vehicle, whether bus, car, or hippie van.  Those guns were made by gunsmiths who use lathes and programmable tool and die shops, and those vehicles are made somewhere by machinists and robots.  You're only an anarchist if you reject all of that.  What they are is a bunch of hypocrites.  They are just pretend anarchists.  Like the rock and roll group who sings about the evils of "the man" and then hops on board the jet made by aerodynamics engineers to fly to the next concert.  Hey, here's a note to the anarchists.  Find your own culture and leave mine the hell alone.  You're not wanted.
It's worse than that.  Take a look at this picture.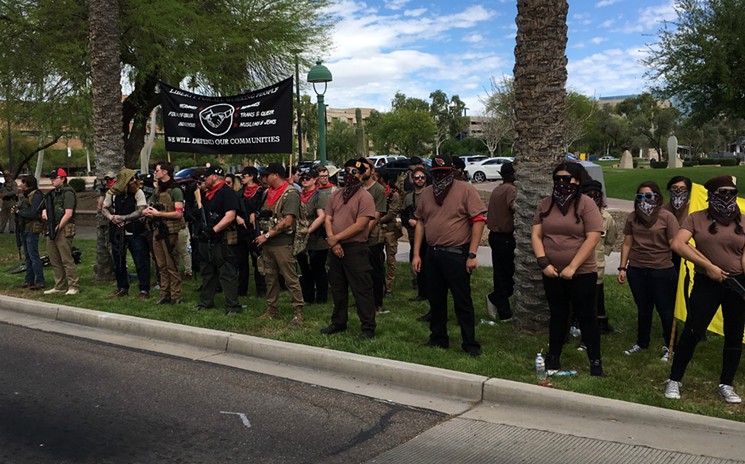 I see a gaggle of fat girls, hipsters and college drop-outs.  What do you see?  Do you have anything more scary than that, girls?
Anyway, all of that said I see no reason why, if they ever obtained power, these boys and girls wouldn't want total control over every aspect of our lives, which is always the reflexive tendency of collectivists and state-worshipers.  And I see no reason they wouldn't inflict pain as a means to their desired ends.
They should remember Herschel's Dictum.  And that it doesn't have to be with a .45 230-grain fat boy.  It can be with something a lot faster than that.