BY Herschel Smith

6 years, 1 month ago
I and some of my family (including grandchildren) rode the Virginia Creeper trail this weekend.  We have done this many times.  Within a couple of miles of the start there is this sign.
Folks, this restroom is a hole in the ground.  Literally, that's all.  It requires someone to monitor the level of waste on a periodic basis (I would guess once per month) and call out a private contractor to empty it when it's full.  There has never been any toilet paper in the restroom.
This is me pointing at the sign.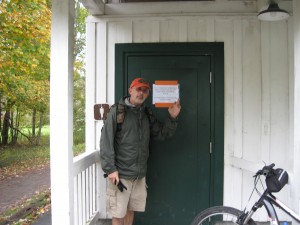 I'm wearing a Marmot rain parka, hauling a three-day ruck bought at the MCX at Camp Lejeune, and carrying a S&W M&P Cerakote flat dark earth .40 with Viking Tactics sights.  I am showing disapprobation towards the federal Leviathan.