BY Herschel Smith

9 years, 12 months ago
I watched this weekend at my son Joshua's house as Heidi (my Doberman) decided that she wanted to meet the dog next door, and she jumped a four foot privacy fence.  I assumed that the fence would be a barrier to her and I didn't have her shock collar on.  I assumed wrong.
And you've seen the video of bears jumping up and down on their front legs to warn you before they attack?  A couple of weeks ago I witnessed Heidi exhibiting the same behavior.  She barked so loudly that she hurt my ears, while each bark was timed with her paws landing on the floor.  I don't recall who she saw on the sidewalk, but she was pissed, and I wouldn't have wanted her outside at the moment.
And then there is this.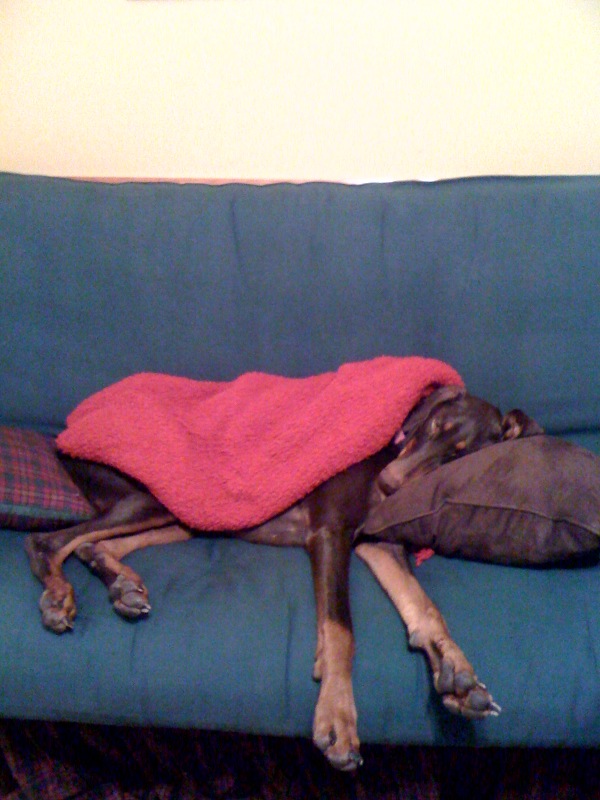 She literally arranged the pillows, crashed on the couch, and then pulled the blanket over her.  I kid you not.  At about 85 pounds, her long legs have to hang off.
Shhh! … don't tell my wife.  Heidi isn't allowed on the couch, and if my wife knew about this Heidi would be done for.  In a throw-down between my wife and Heidi, Heidi doesn't stand a chance.