BY Herschel Smith

12 years, 11 months ago
From National Defense:
There is a popular belief that soldiers have a significantly longer life expectancy in a combat zone after they have survived their first few firefights. But little research has been conducted to evaluate what soldiers learn early in their deployments that would make the difference between improved effectiveness and becoming a combat fatality.

Can learned factors or perhaps inherent traits be replicated and conveyed in training so that a soldier's chance of surviving initial firefights is similar to that of a seasoned combat veteran?

Past anecdotal discussions have indicated that military units tend to suffer higher casualty rates in their first engagements with the enemy. Recent research demonstrates that the first 100 days of combat is a more reliable critical period for improving the likelihood of survival than the widely held "first five firefights" theory.

These results hold implications for several aspects of modern training, as well as tactics, techniques and procedures used by today's military.

The findings are the result of a study commissioned by the Defense Advanced Research Projects Agency.

The study sought to determine the most likely times within a tour of duty that a soldier might become a combat-related fatality. The research also aimed to identify methods for reducing fatalities associated with these vulnerable times during a soldier's deployment.

Statistics are not kept on the number of firefights in which a soldier experiences. In addition, a commonly accepted definition of firefight was difficult to ascertain, further complicating an investigation of the "first five" concept.

Based on analyses of databases covering all publicly available U.S. and U.K. fatalities over the past three years, nearly 40 percent of fatalities occur in the first three months of deployment.

One potential factor is troop transitions, such as old units rotating out and new units learning the ropes as they rotate in. Loss of local intelligence when an old unit leaves can be a crucial factor affecting fatalities during these initial months. When the old unit departs, relationships with locals are frequently lost. Lack of familiarity with the environment and enemy tactics, as well as a general lack of experience, are also important factors.

Analysis revealed another increase in Army fatalities, though not as dramatic, at approximately the six-month mark of a tour. The six-month spike was less pronounced for Marines, Navy and Air Force personnel. In addition, a minor spike in fatalities occurred again for soldiers at the 10-month mark. Likely factors for the increase in fatalities in these later months are fatigue, complacency and stale tactics. Frequent missions and patrols, overly consistent day-to-day procedures, and lack of in-theater training to maintain soldier focus may exacerbate these factors as well.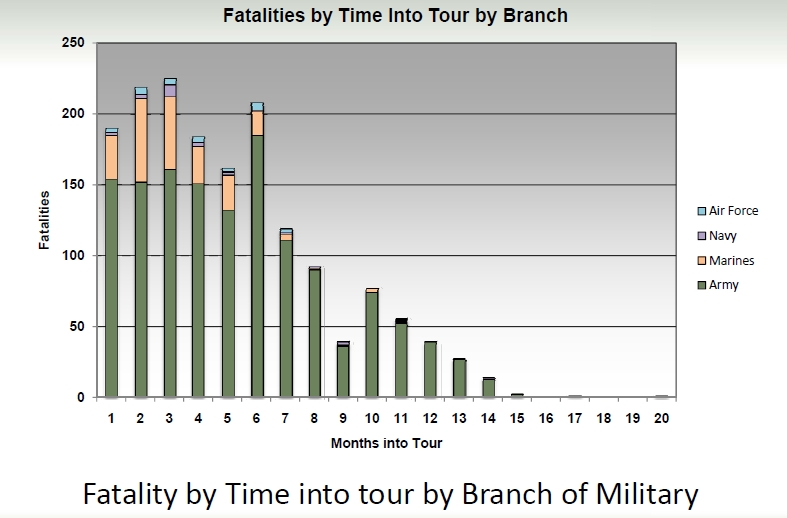 The graph above comes directly from Capturing Insights from Firefights to Improve Training, a DARPA presentation which I obtained from Scott Scheff with HFDesignworks.  There are several interesting and noteworthy observations from the study.  The spike at six months for Marines is not less likely as National Defense claims.  It is non-existent.  The spike occurs only for Army deployments.  Unstated is whether seventh month deployments versus 12- or 16-month deployments for the Army have anything to do with these metrics.
Regardless of why this spike occurs for Army and not the Marines, the message is clear from the study.  Stale tactics, techniques and procedures (TTPs) allows the insurgents to train themselves to our routines.  There are a number of tools recommended by the team which could contribute to better metrics (whether two-month or six-month).  The team recommends better just-in-time training (or what they call immersion training), a longer overlap from deployed to entry units, training to avoid complacency, theater- and situation-specific weapons deployment, and most importantly, revision of tactics, techniques and procedures to avoid stalemates between insurgents and counterinsurgents near or before the six-month period.  This is extremely important.
This follows the article entitled Marines, Taliban and Tactics. Techniques and Procedures.  Better training and preparation for and during deployments means lives saved.