BY Herschel Smith

13 years, 10 months ago
"So I can hear it now – the First Sergeant says, 'Okay.  Instead of practicing room clearing exercises, today and tomorrow we have a work party at the armory to remove certain inscriptions on your ACOGs.'  Rather than training to do your job and save your life, you spend your time making somebody happy who has nothing to do with any of this.  The dude who is worried about this needs to find something else to do with his life"  –  A certain Marine
"I foresee ACLU involvement.
I also can foresee the Troops being told to remove the offending 'codes' and several filing through the outer casing of their sights causing a subsequent blanket order to cease filing and directing Cdrs to turn all the sights in to DS Maintenance for removal of the offending characters IAW MWO 9-236-10 followed by a GAO audit to determine how much the whole drill cost.
Oh. And the media report of J Troop, 10-73d Cav taking excess casualties due to the lack of optical sights, all having been in Maintenance for over three months, in the big fire fight at Fetterman's Sangar…
All for something that doesn't approach, much less pass the 'so what' test" – Ken White, Small Wars Council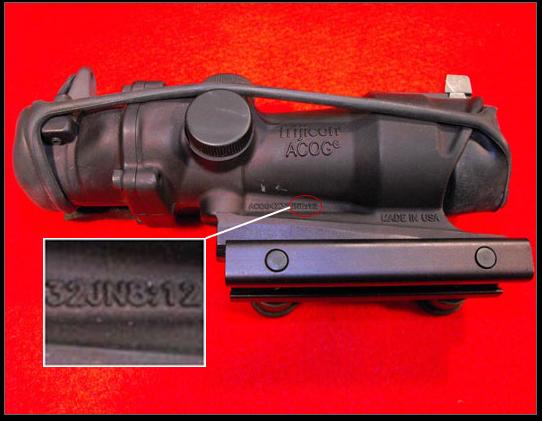 So by now you are all aware of the Biblical inscriptions on ACOGs sights sold by Trijicon to the U.S. Marines and Army.  Without rehearing the details, the owner of the company who makes the ACOGs sights for the U.S. Marines is a Christian, and he has found a unique way to take pride in his work.  He has tooled his factories to inscribe certain Biblical passages on the ACOGs sights.
General Petraeus is disturbed over the inscriptions.  The U.S. Marine Corps is concerned, and Trijicon has agreed to remove them.  Even the washed up, burned out, pacifist hippies at Creative Loafing have weighed in with indignation over the inscriptions (and Muslims with faux outrage after this was hyped in the American media).  The Huffington Post has their usual knee jerk reaction.  Kits have been distributed to remove the inscriptions from those sights which are currently in service (even though, rather surprisingly, the British Ministry of Defence has refused this remedy because it will remove weapons from the field where they are needed).  They've taken a pass.
Now, I would never have included the inscriptions on the sights, but not because I disagree with the inscriptions.  In general, I'm a boring kind of guy and just not creative enough to have come up with the idea.  With General Petraeus, I am "disturbed" about a great many things: that we initiated Operation Iraqi Freedom with fewer troops than necessary to maintain the peace once the regime fell – that we have too few troops now in Afghanistan – that we may be losing our conventional capabilities as we necessarily focus on irregular warfare – that our warriors need an entirely new generation of  weapons that won't be funded – and so on the list could go.  But "disturbed" over these inscriptions?  Not even nearly.  Generals should worry over things that warrant worry, such as micromanaging the campaign.
As for Trijicon, they have behaved admirably throughout this silly ordeal.  If it had been me, I would have let the Marine Corps explain to parents and spouses of Marines why they rejected the best optical sights on the planet because someone who wasn't involved in this objected to my world view.  I would have responded, 'Oh, go blow it out your …..,"  well, never mind, that wouldn't be very Christian.