BY Herschel Smith

14 years, 1 month ago
In Sand Berms Around Haditha, we discussed instances of the use of sand berms over two years ago to isolate Haditha from insurgents coming across the border from Syria.  The strategy in Haditha also relied on a strong police chief, but the berms were a necessary element that allowed the Marines and police chief to control traffic into and out of Haditha.  Now as Regimental Combat Team 5 comes home, we learn of the continuing use of sand berms in counterinsurgency.
Securing the area involved building large sand berms around cities that would otherwise be easy to approach from any direction in the desert. Doing this limited the number of insurgent strikes and allowed the Iraqis to control the flow of population in their own cities, Malay said.

This, combined with intelligence gathering and cooperation with tribal leaders and Iraqi police forces, helped limit the number of attacks on Marines during the team's 13-month tour in Iraq. Malay said attacks diminished from 16 a week when the unit arrived to less than two a week when it returned last month.
This tactic has been necessary for cities nearest to the Syrian border.  RCT-5 has been active in the West of Anbar, in and around Rawah, and Rutbah.  Rawah is close to the Syrian border.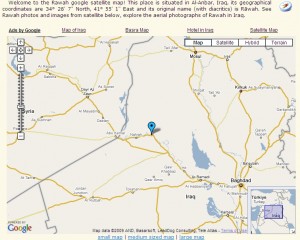 Rutbah is close to not only the Syrian border, but the Jordanian border as well.  Whether it is gated communities and biometrics to prevent the flow of insurgents through the city, or the simpler use of sand berms surrounding a city, interdiction of the flow of insurgents through physical terrain has been a key tactic in counterinsurgency as practiced by the Marines in Anbar.