BY Herschel Smith

10 years, 9 months ago
In January of 2009 Andrew Lubin authored an open letter to the President concerning Afghanistan.  This was carried on his own web site and also the Small Wars Journal blog.  A number of recommendations were made, but one observation bears repeating.
Get the Army off their huge stupid bases where their bureaucracy flourishes. Put them in the field where they belong. Their "creature comforts" have gotten out of control -Burger King, Orange Julius, jewelry shops; do you know they now offer massage services at Bagram? In a war zone?
The Washington Post published an article entitled From a Fortified Base, a Different View of Afghanistan.  The beginning of the article justifies Lubin's concern and continues with this theme in the superlative degree, although not just at Bagram.
FORWARD OPERATING BASE ALTIMUR, Afghanistan, March 2 — From the air, this U.S. Army camp in Logar province looks like a fortified gravel pit on a barren slope, surrounded by two-tiered sacks of dirt and razor wire.

But inside the wire, the hundreds of young sappers and scouts and cavalry troops from the 3rd Brigade Combat Team, 10th Mountain Division, all newly arrived for a one-year deployment, have a pretty good life.

There is a heated recreation tent with treadmills and table tennis, 24-hour Internet service, Skype hookups and a bank of low-cost, instant-connection phones. A muted cacophony of domestic chatter rises from the rows of plywood booths.

"Don't forget to make the car payment . . . She told me the new baby has red hair . . . I thought we agreed not to talk about that till I get home . . . No, it's real quiet here, Ma . . . I saw some pretty nice hunting rifles on the Net . . . Are you being a good girl for Daddy?"

One tent away is the DFAC, or dining facility, where a crew of cheerful civilian cooks from India stays up all night preparing a smorgasbord of goodies. There is a mountain of fresh strawberries and grapes, replenished daily. There are six kinds of ice cream and pie. There is surf and turf every Friday night, with lobster tails flown from Maine via Dubai. After a late patrol, the men can still get grilled cheeseburgers at 2 a.m.

The living and bathing accommodations are luxurious, too, especially for soldiers who have slept on open rocky ground and gone for weeks without a real shower on previous deployments in much more primitive and dangerous conditions, such as insurgent-plagued Konar province to the east.

The 20-cot sleeping tents are neatly arranged between gravel paths that absorb the mud and snow. They are lighted brightly enough for soldiers to read at night, although most prefer watching action movies on their laptops. They are heated by giant black plastic hoses that blast in air so hot it can dry a pair of washed socks in 20 minutes. The hoses also pull out the exhaust so powerfully that they can suck up nearby objects — even a visitor's sweater and cellphone — like some stealth worm from a science fiction novel.

Then there is the view, which is utterly breathtaking. Logar, located in central eastern Afghanistan about 50 miles south of the capital, Kabul, is a wide valley surrounded by mountains. From the lookout post at Altimur, set atop an abandoned stone wall, one can gaze in any direction at a vertiginously sculpted panorama of pristine white peaks.

But the men of the 3rd Combat Brigade did not come here for a sightseeing vacation, and they seem edgy and bored in this cramped military spa. They are young and fit and ready for action, and the drizzly, leaden weather means little contact with the Taliban insurgents they came to fight.
This approach can be contrasted with that taken by the 24th MEU when they deployed to the Helmand Province.   Col. Peter Petronzio, commander of the 24th Marine Expeditionary Unit, observed that "You need physically to be there," he said. "You need to continue to move about the population, let your presence be known, but do it in a way so that you are not smothering and overwhelming. You have got to let life go on."
The Marines lived for most of their deployment in Helmand without electrical power, e-mail, connectivity, or comfortable living arrangements.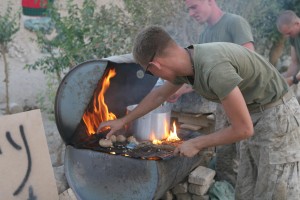 No ice cream for the Marines.  Food was prepared over an open fire in the Helmand Province, Afghanistan.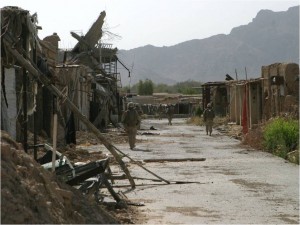 Marines on patrol in Now Zad, Afghanistan.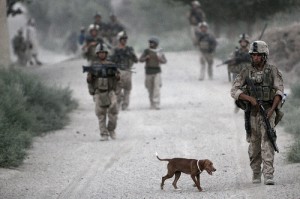 Corporal William Ash, a squad leader from 1st Platoon, Bravo Company, Battalion Landing Team 1st Battalion, 6th Marine Regiment, 24th Marine Expeditionary Unit, NATO International Security Assistance Force (ISAF), along with a stray dog lead a patrol through a city in Helmand Province, Afghanistan. When the platoon moved into the area, they found two stray dogs, and each time the Marines head out on patrol the dogs are right at the Marines' side.
Continuing with the 3rd Brigade Combat Team, 10th Mountain Division, is there anything to do in Logar?  Perhaps so.  "Recently in Logar, armed locals blocked the highway into Kabul for hours, in protest of a night raid where US forces killed one and detained three others. According to local reports, the nearly 2,000 protestors burned tires and chanted anti-US slogans."
The capabilities of the 10th Mountain Division versus the Marines is not at issue here.  The issue pertains to command decisions concerning how troops are to be used, the strategy employed in Afghanistan, and the tactics used to effect that strategy.  Clearly, this is not the right use of the 10th Mountain Division.