BY Herschel Smith

14 years, 2 months ago
Somali pirates in small boats can be seen alongside the hijacked MV Faina. The captain of the hijacked ship off the coast of Somalia said one crew member had died (U.S. Navy/AP Photo).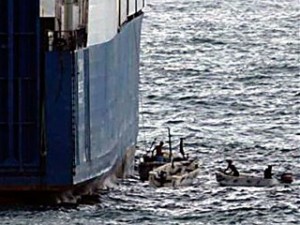 The U.S. Navy and Marines have surrounded some very important cargo in the Gulf of Aden near the Somalian coast.
U.S. warships have surrounded the MV Faina, a Belize-registered ship that was hijacked by pirates off the lawless coast of Somalia last week.

While there's no gold or precious jewels onboard, this buccaneer's booty has the international community racing to intercept the boat before its cargo can be offloaded.

The Ukrainian-owned ship is carrying 33 Russian-made T-72 tanks, anti-aircraft guns, multiple-launch rocket systems and thousands of rounds of tank ammunition. Initial reports indicated the Ukrainian arms were destined for Kenya. But U.S. officials now say it appears they were to be shipped to Sudan, although it is unclear if they are headed to the central government in Khartoum or the government of Southern Sudan, which has purchased such tanks in the past.

The U.S. Navy has dispatched several destroyers and cruisers, as well as an amphibious ship with a complement of helicopters and Marines aboard, to ensure the hijacked arms don't fall into the hands of terrorists in the power vacuum of the Horn of Africa region, particularly in Somalia, where al Qaeda-linked groups operate.

"We are not going to allow the offload of the ship's cargo," warned Lt. Nathan Christensen, a spokesman for the U.S. Navy's Fifth Fleet, which has sent ships to the scene.

The U.S. ships are stationed in a 10-mile radius around the hijacked vessel to prevent it from escaping.

"We are deeply concerned about the safety of the crew as well as the cargo onboard MV Faina," Christensen said, adding that the U.S. presence "represents the U.S. resolve to ensure safety and security in the region. Piracy is a problem that starts ashore and requires an international solution to this international problem."

A senior U.S. defense official says the American ships' main mission is to prevent the pirates aboard the freighter from being resupplied from shore. The MV Faina is anchored off the Somali port of Hoybyo, along with two other freighters that had been hijacked by pirates previously.

Also of immediate concern is the well-being of the ship's crew of Ukrainians, Latvians and Russians, totaling 21. A Russian crewman is reported to have died from hypertension. A Russian naval ship is also on its way to the scene from the Baltic and is estimated to arrive off Somalia in a week, at the earliest.

The U.S. Navy says it has had no coordination with the Russians on the matter.

"The Russians, I believe, are trying to lend their support," State Department deputy spokesman Robert Wood told reporters today, declining to comment further.

The modern-day swashbucklers were armed with automatic weapons when they boarded the ship Thursday. They are demanding a $20 million ransom for return of the cargo, down from an initial demand of $35 million.

The region off the coast of Somalia is well-known for pirate activity where cargo ships are regularly hijacked for ransom. Indeed, the number of vessels hijacked this year, and the ransoms demanded for their safe return, have risen dramatically.
Robert Kaplan gives us a little more on the pirates and their methods.
I spoke recently with several U.S. Navy officers who had been involved in anti-piracy operations off Somalia, and who had interviewed captured pirates. The officers told me that Somali pirate confederations consist of cells of ten men, with each cell distributed among three skiffs. The skiffs are usually old, ratty, and roach-infested, and made of unpainted, decaying wood or fiberglass. A typical pirate cell goes into the open ocean for three weeks at a time, navigating by the stars. The pirates come equipped with drinking water, gasoline for their single-engine outboards, grappling hooks, short ladders, knives, AK-47 assault rifles, and rocket-propelled grenades. They bring millet and qat (the local narcotic of choice), and they use lines and nets to catch fish, which they eat raw. One captured pirate skiff held a hunk of shark meat so tough it had teeth marks all over it. With no shade and only a limited amount of water, their existence on the high seas is painfully rugged.

The classic tactic of Somali pirates is to take over a slightly larger dhow, often a fishing boat manned by Indians, Taiwanese, or South Koreans, and then live on it, with the skiff attached. Once in possession of a dhow, they can seize an even bigger ship. As they leapfrog to yet bigger ships, they let the smaller ships go free. Because the sea is vast, only when a large ship issues a distress call do foreign navies even know where to look for pirates. If Somali pirates hunted only small boats, no warship in the international coalition would know about the piracy.

Off-hand cruelty is the pirates' signature behavior. In one instance, they had beaten, bullied, and semi-starved an Indian merchant crew for a week, and thrown overboard a live monkey that the crew was transporting to Dubai. "Forget the Johnny Depp charm," one Navy officer told me. "Theirs is a savage brutality not born of malice or evil, like a lion killing an antelope. There is almost a natural innocence about what they do."
The Captain's Journal has no idea what this Navy officer is talking about. He needs to go back and re-evaluate his own morality and ethics, if he has any. Piracy, theft and cruelty are most certainly born out of evil, and the pirates themselves are reprehensible along with their actions. Right and wrong, good and bad, righteousness and evil, are not merely conventions.  They are universal and invariant.  There is nothing romantic about this.
This isn't about learning a language to communicate with a population, or identifying an indigenous insurgency, or befriending a tribal sheikh, or employing gated communities, or any of the complicated counterinsurgency tactics we've had to employ in Iraq or Afghanistan.
This is easy. We tell the LOAC and ROE lawyers that they're special and that they should go to their rooms and write high-sounding platitudes about compassion in war so that they're out of the way, we land the Marines on the ship, and we kill every last pirate. Then we hunt down his domiciles in Somali and destroy them, and then we find his financiers and buyers and kill them. Regardless of the unfortunate potential loss of Ukrainian or Russian civilian life upon assaulting the ship, this weaponry and ordnance should never have been shipped in this part of the world without escort (and perhaps it shouldn't have been shipped even with escort).
Negotiations will only serve to confirm the pirates in their methods. It's killing time. It's time to turn the United States Marines loose.