BY Herschel Smith

14 years, 8 months ago
Marines of 3rd platoon 1st squad, Fox Company, 2nd Battalion 7th Marines, conduct a local security patrol in the city of Now Zad, Afghanistan to ensure the safety of the forward operating base on June 08, 2008.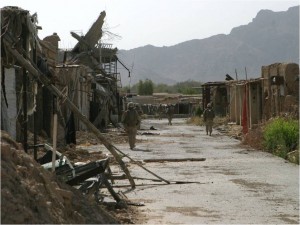 Friend of The Captain's Journal Major Cliff Gilmore (USMC) is in Afghanistan and sends an anecdotal update on Marines in Now Zad that makes him proud to be a Marine.
I did make a short trip "up north" to a fun little place called Now Zad where a company of Marines have been slogging it out. I don't like to bring politics into these e-mails, but in general I can comfortably say that those who beat the "support our troops, bring them home now" drum clearly haven't talked to the warriors I mixed with out there. Several have died. More have lost limbs to improvised explosive devices (IED). All of their corpsmen (medics) have received one or more Purple Heart Medals for injuries sustained in combat and not a one of them talked about wanting to go home. When I arrived at Now Zad I came in with approximately 30 combat replacements. New Marines in to take the place of those already killed or injured. They were all volunteers and left their various units to re-enforce the Marines at Now Zad because, according to one Marine, "…we heard this was where the bad guys are."

I talked with numerous Marines and hovered in the pre-dawn shadows of the moonscape listening to their chatter for hours and heard only about what they had learned, how they were getting better at this kind of fighting, and how they couldn't wait to get back outside the wire and "…hunt the scrappy little @&%!ers down." Point here being, I'm not at all confident the boys in the middle of the fight are thinking in terms of how the folks back Stateside might be able to support them by bringing them home. Mostly they just want more bullets.

I ran into one young Marine who has already been shot twice and blown up by an IED once and came away essentially unscathed both times. The IED resulted in a sprained ankle which he taped up and strapped back into his boot. The two shots came while he was on the radio calling for medevac for a fellow Marine. As the story goes — told the same way by numerous Marines out at Now Zad — he was kneeling beside the wounded Marine, radio in one hand, assisting the corpsmen in treating the wounded Marine with the other. Calm as could be his conversation on the radio went something like "…sir, we have a Marine down and need a medevac immediately. We are located at grid 123456. He looks stable but his injuries are serious. We need you to come and get him now. Oh, and I just got shot too so you'll have to come get me as well."

He took two 7.62 AK-47 rounds to the left side under his arm. His armor stopped the bullets, but he didn't realize that at first. As he described it, the force of the rounds hitting him felt "…pretty much real enough at the time…" As others described it, he didn't even flinch when the shots came, did not skip a beat on his evac call, and once he had a chance to inspect his bruised ribs simply asked the doc to tape him up and then went back into the fight.

He didn't ask to go home.
Proud indeed. Thanks to Major Gilmore for this update, and watch your six, friend.