BY Herschel Smith

14 years, 7 months ago
Just hours before Russia escalated the crisis by recognizing the independence of two separatist Georgian provinces, Mr Saakashvili said Russian forces had advanced to the strategic Akhalgori heights 10 miles from Tbilisi.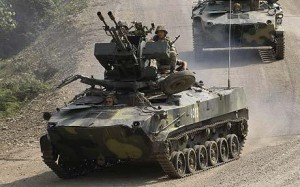 Photograph AP
Michael Totten has written a good article from Georgia, and its introduction is hard hitting and informative.
BILISI, GEORGIA – Virtually everyone believes Georgian President Mikheil Saakashvili foolishly provoked a Russian invasion on August 7, 2008, when he sent troops into the breakaway district of South Ossetia. "The warfare began Aug. 7 when Georgia launched a barrage targeting South Ossetia," the Associated Press reported over the weekend in typical fashion.

Virtually everyone is wrong. Georgia didn't start it on August 7, nor on any other date. The South Ossetian militia started it on August 6 when its fighters fired on Georgian peacekeepers and Georgian villages with weapons banned by the agreement hammered out between the two sides in 1994. At the same time, the Russian military sent its invasion force bearing down on Georgia from the north side of the Caucasus Mountains on the Russian side of the border through the Roki tunnel and into Georgia. This happened before Saakashvili sent additional troops to South Ossetia and allegedly started the war.
Read Michael's whole article. Michael is always worth reading no matter what the subject is. Michael said "virtually" everyone believes …," and that's good. Readers of TCJ knew better, as we previously said that the war was about Russian hegemony and the reconstruction of the Soviet empire (the title of this article is no accident or slip of the tongue).
The Russians are now dug in, and Kim Zigfeld writing for Pajamas Media has asked the next obvious question.
A few months ago, the issue of Ukraine's admission to NATO was debated. NATO told Ukraine that it was "only a matter of time" before it would be granted membership.

Let's be blunt: That time has now run out. NATO must act immediately, and it must do more than simply give Ukraine a promise of defense. It must arm Ukraine to the teeth. It must make it such a hard target that the lunatics who "govern" neo-Soviet Russia will not even consider moving against it, as they recently did in Georgia.

The reasons are so obvious that they hardly need to be stated.

The role played by Russia's Black Sea Fleet in brutally assaulting Ukraine has not been sufficiently reported, but Ukraine understands it only too well. Last week, Ukraine demanded that Russia give 72 hours notice before activating war ships at its naval base in Crimea, on Ukrainian territory (similar to the U.S. base in Guantanamo, Cuba). Russia said it would simply ignore the demand. The Moscow Times reported: "The chief of Ukraine's General Staff, Serhiy Kirichenko, promised to fulfill Yushchenko's decree. 'The president's decree on the Black Sea Fleet will, of course, be implemented on the territory of Ukraine. The Defense Ministry and the General Staff are among those state bodies responsible for this task.'"

As Ukraine stands up for its comrade Georgia, demanding that Russia not use ships based in Ukraine to blockade or otherwise torment Georgia without at least giving due notice to their host, Russia uses this as a pretext to ratchet up its confrontation rather than defuse it. It is a clear signal that Russia's intentions towards Ukraine are at least as malevolent as they are towards Georgia, if not more so.
Or perhaps there are a couple of questions: [1] when will Russian designs for the Ukraine be effected, and [2] how fast can we arm the Ukraine and prepare to defend her?
Do you still doubt Russian intentions? Listen to Dmitry Medvedev concerning Russian recognition of the independence of South Ossetia:
Russia is not afraid of a new Cold War taking hold and is ready for "anything," Russian President Dmitry Medvedev said on Tuesday in a television interview.

"We're not afraid of anything (including) the prospect of a Cold War. Of course we don't need that … Everything depends on the stance of our partners and the world community and our partners in the West," Medvedev told the Russia Today channel in comments translated into English.

Asked whether Russia was ready for the consequences of recognising Abkhazia and South Ossetia, Medvedev said: "If they want to preserve good relations with Russia, they will understand the reason for taking such a decision and the situation will be calm."
The world remains a very dangerous and brutal place, and Russia is looking to rebuild the Soviet empire, even at the cost of a new cold war. The faster we can get on top of this series of events, the easier, cheaper, and safer we will be. Lethargy and delays will only make the situation more dangerous, costly and difficult down the road.
If NATO cannot bring itself to arm the Ukraine and come to her defense, then there is no reason for its existence, and it has proven itself to be what we knew it was all along – a paper tiger. This might be the one good thing that comes from the Russian aggression.
Note: See Saakashvili's statement on Russian actions.
Prior at TCJ:
Iraq Veterans Engage Russian Troops
Georgia Pleads for Help Against Russian Brutality and Hegemony