BY Herschel Smith

15 years, 3 months ago
Returning from Camp Lejeune after seeing the 26th MEU (2/6) prepare to deploy.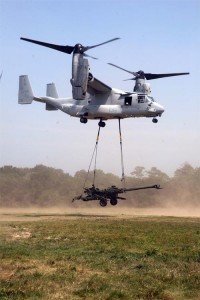 Picked up a copy of The Globe, which has this article on the V-22.
Marines with Battery S, 5th Battalion, 10th Marine Regiment, made Marine Corps history as the first Marines to demonstrate the tow capabilities of the V-22 Osprey, which vertically lifted and maneuvered a M777 towed howitzer, Aug. 7.

"My team did extremely well," said Wendel. "They did better than I thought they would especially for the first time."

The demonstration was part of a field exercise helping to prepare the battery for a scheduled deployment with the 26th Marine Expeditionary Unit.

This training involved planning for raids and implementing the tow capability of the Osprey to reposition the howitzer quickly into position to support ground troops.

The exercise prepared the Marines to be self-sufficient at connecting and detaching the howitzer to and from an Osprey as it hovered overhead.

"It was pretty crazy under there," said Cpl. Gerald W. Wendel, a section chief. "It was the strongest wind I had ever felt in my life. You can barely see or move. We pretty much had to ride the wind. Sand was flying everywhere, but the Marines did it. They adapted and overcame. It went extremely well."

The Marines practiced a few dry runs through the scenario before the arrival of the aircraft for the pick up.

The Marines were highly motivated to have the opportunity to be the first gun crew to do this, said Wendel.

Once the howitzer was off the ground the pilots flew to another nearby landing zone where the gun was detached from the aircraft and placed into position for aiming in on imaginary targets.

"It was a pretty good lift with very minor damage," said Gunnery Sgt. Nicholas Manganiello, the battery gunnery sergeant. "We can still put rounds down range, move and communicate. That's our mission. As long as we can do that we are good."

After successfully attaching the howitzer to the aircraft the Marines enjoyed their first flight in an Osprey as they were flown to the designated landing zone to finish the exercise with a dry-fire mission.
The V-22 Osprey just keeps proving itself up to the task as a replacement for the aging Marine transport. Flying further, faster and higher, proving itself capable of equipment transport is an added benefit compared to the troop transport duty it mainly saw in Anbar, Iraq.