BY Herschel Smith

15 years, 7 months ago
In Marines Engage Taliban in Helmand Province we discussed the beginnings of the Operation Azada Wosa ("Stay Free" in the local Pashto language) by the U.S. Marines in the Helmand Province.  The operation is going forward with success without serious Marines Corps casualties thus far.
The Taliban aren't giving up without a fight. In groups of three and four, they open fire at the Marines with assault rifles or rockets, then flee. Sometimes they attempt infantry maneuvers, trying to draw the Marines in one direction with a feint, then attacking from another direction. "They were tactically sound," Moder says. "It shows that they've done it before, that they might have been trained."

Moder estimates his men have killed 30 Taliban fighters. Maj. Tom Clinton, executive officer of the Marines' infantry battalion, could not confirm Taliban casualties, but he says the Marines are getting reports that wounded Afghan men are seeking medical treatment in Helmand's capital, Lashkar Gah.

So far, U.S. casualties have been relatively light. Through Thursday afternoon, no Marines had been killed in the operation, although two died last month when a roadside bomb hit their supply convoy.

Six Marines had been injured, none critically: One was shot in the foot, perhaps accidentally; one suffered a concussion from a Taliban rocket or mortar attack; one was bitten by a dog; one fell from a roof and broke an ankle; two broke their legs; and two more sprained their ankles.

The nagging injuries and intense heat are sometimes a more immediate threat than the enemy itself, troops say. "Imagine carrying 75 to 120 pounds of gear and playing a football game where each quarter lasts three hours," says 1st Lt. Mark Matzke, 21, of Arlington, Va.

Keeping them supplied with water, ready-to-eat meals and ammunition is a full-time operation. From Camp Dwyer, a handpicked team of two dozen Marines runs convoys to infantrymen in the field.

"We wanted to be called 'The Nomads' but they gave us 'Wagon Wheel' " instead, says Gunnery Sgt. Javier Duarte, 34, of Miami. Before every convoy, Duarte usually gives the Wagon Wheel team a profanity-laden pep talk, then introduces the chaplain for a prayer.

The convoy heads outside Camp Dwyer's concertina wire and into the desert on the way to the Marines fighting on the outskirts of Garmser. Along the way, they pass Afghans working in the fields, harvesting the poppy that could be turned into heroin and sold in Europe and the United States.

Back at Camp Dwyer, a special team of combat surgeons, doctors, nurses and medics plays cards and lounges in scarce shade, relieved that light casualties mean their skills haven't been needed. Some of the doctors have trained in emergency rooms in Los Angeles and Baltimore, treating victims of gangland shootings.
The picture below is taken from DVIDS.  Click for high resolution version of the photograph.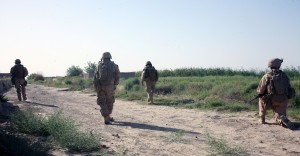 Marines with Charlie Company, 1st Battalion, 6th Marine Regiment, 24th Marine Expeditionary Unit, NATO – International Security Assistance Force conduct operations in Garmsir District, Helmand province, Afghanistan.