BY Herschel Smith

15 years, 1 month ago
Time has named Vladimir Putin person of the year.  George W. Bush looked the man in the eye and found him to be "very straightforward and trustworthy."  On the other hand, I look Putin in the eye and see Lucifer.  Obviously, since he is fond of assassinating people by administering lethal doses of Polonium-210, he is not the choice of The Captain's Journal for man of the year (we have jettisoned the gender-neutral "person" of the year moniker as stupid).
There are powerful arguments for General David Petraeus for man of the year.  But even Petraeus doesn't make it to the top of the list.  Who then do we advocate for man of the year?  He is Corporal Raymond D. Hennagir.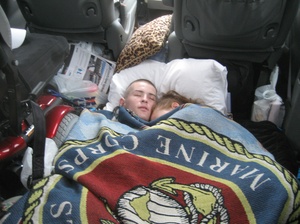 Corporal Hennagir is a brave warrior who lost both legs and four fingers to an IED, and his story is one of An Unforgettable Reunion.
CAMP LEJEUNE, N.C. – For 10 weeks, ever since Cpl. Raymond D. Hennagir was blown up, he had longed for this moment, this homecoming, when the rest of his platoon would return from Iraq.
He missed them, his brothers. Hennagir, a 21-year-old Marine from Deptford, N.J., felt he had let them down by stepping on an improvised explosive device (IED), blowing off both legs and four fingers on his left hand – now, he said, in his darkest Marine humor, just "a pink mist and a memory."

Hennagir desperately wanted to mend enough so that the Marine Corps would let him travel to Camp Lejeune for this day, Aug 26.

That wish motivated him, maybe even kept him alive, through the summer's 16 surgeries and three skin grafts. The pain was so intense that he was sure his screams were heard all through the National Naval Medical Center in Bethesda, Md.

"There were times when I wondered if the kid was ever going to get a break," said his uncle Jim English, a 20-year Navy veteran, who would stare helplessly out the hospital window.

And now here Hennagir was. The late-August sun was blazing. He sat in his wheelchair, his baggy new jeans from American Eagle tucked up under his lost legs.
Read all of the story – it will make you weep for the brave men who have suffered TBI, lost limbs, and lost lives, and weep for their loved ones.  And it will make you proud of their bravery.
But Corporal Hennagir is also a surrogate, and our nominating him man of the year is a vote for all of the wounded and all those warriors who have given it all for the cause.  Men like Lance Corporal Dale G. Peterson, Lance Corporal Walter K. O'Haire, and Lance Corporal Jonathan E. Kirk of 2/6 who lost their lives in Fallujah during the summer of 2007 are also men of the year.  It is men like these for whom I am truly thankful.