BY Herschel Smith

7 years, 7 months ago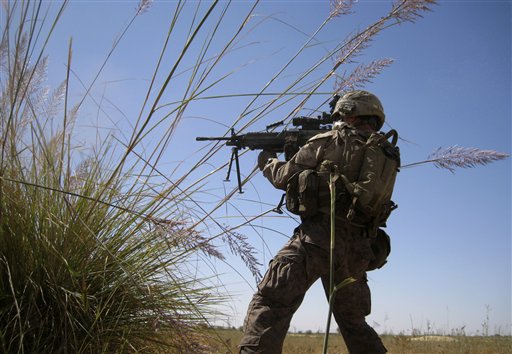 Lance Cpl. Wesley Samuels, of Winter Haven, Fla., with the 2nd Battalion, 9th Marines' Echo Company, fires at Taliban insurgents during as gunbattle in Marjah, Afghanistan.
AP reporter Todd Pitman and I have exchanged e-mail before during his embeds in Ramadi.  He felt at the time that a comment he left here at TCJ might have gotten him into trouble with AP for potentially representing formal AP position.  Hopefully this was an earlier time and a different atmosphere, before AP learned the value of interacting with the new media.  Or have they?  Does AP still cling to its policy of disallowing any copying of text into posts?  In either case, while AP might have poor policies, Todd Pitman is a very good reporter and his most recent article provides anecdotal accounts and some analysis of the situation the Marines face in Marjah.
MARJAH, Afghanistan — The young Marine had a simple question for the farmer with the white beard: Have you seen any Taliban today?

The answer came within seconds — from insurgents hiding nearby who ended the conversation with bursts of automatic rifle fire that sent deadly rounds cracking overhead.

It was a telling coincidence — and the start of yet another gunbattle in Marjah, the southern poppy-producing hub which U.S. forces wrested from Taliban control in February to restore government rule.

Eight months on, the Taliban are still here in force, waging a full-blown guerrilla insurgency that rages daily across a bomb-riddled landscape of agricultural fields and irrigation trenches.

As U.S. involvement in the war enters its 10th year, the failure to pacify this town raises questions about the effectiveness of America's overall strategy. Similarly crucial operations are now under way in neighboring Kandahar province, the Taliban's birthplace.

There are signs the situation in Marjah is beginning to improve, but "it's still a very tough fight," said Capt. Chuck Anklam, whose Marine company has lost three men since arriving in July. "We're in firefights all over, every day."

"There's no area that's void of enemy. But there's no area void of Marines and (Afghan forces) either," said Anklam, 34, of Fort Lauderdale, Florida. "It's a constant presence both sides are trying to exert."

That day, militants in his zone of operations alone had attacked Marines in four separate locations by mid-afternoon.

[ … ]

… the end of Taliban control in Marjah has sown the seeds of an entrenched guerrilla war that has tied down at least two U.S. Marine battalions and hordes of Afghan police and army troops.

The result, so far at least: Residents say the town is more insecure than ever.

[ … ]

Coalition forces are also trying to win over the population by organizing the delivery of solar panels to businessmen, and refurbishing shops, wells and mosques, Anklam said. But residents are weary: One Marine simply trying to give away a lollipop to children at a checkpoint tried three times before finding one who would take it.
Todd includes this nugget of gold.
Anklam has spread the Marines of Echo company as much as possible. The squads are now based at 13 small outposts — twice as many as in July. As a result, Marines say that although firefights occur daily, violence has decreased overall.
Several observations are in order.  First, to say that the insurgency has "tied down" ANA and ANP probably embellishes what they have accomplished, which has been problematic at best (as we have discussed many times in the ANA and ANP categories).  It is the Marines who are being tied down.  The ANA is at the very best being mentored by the Marines, at the worst are high on opium or hashish.
Second, as if we needed any more indication that the British notion of the government in a box doesn't work, Todd's article should be about the last nail in the coffin of that debacle of a strategy (and make no mistake about it, we brought this "government in a box" to Marjah at the behest of the British, in a tip of the hat to their approach to COIN).
Finally, notice what the Marines are doing.  A single company is spread out at 13 outposts.  A single infantry company.  This is remarkable.  It's a tribute to the tactics employed by the U.S. Marines, and should be an embarrassment to the folks who spend all of their time at FOBs, including the SOF boys with ZZ Top beards wearing backwards ball caps and T-shirts who ride to the fight in helicopters and bed down back at the base after a hot meal and shower.  They are adding  nothing to the campaign.
It isn't the work of the U.S. Marines that is in question.  Given time, they will win.  The questions are: (1) do they have it, (2) will we give them the resources, and (3) will we get out of the way and let them do what they have to do?