BY PGF

8 months, 1 week ago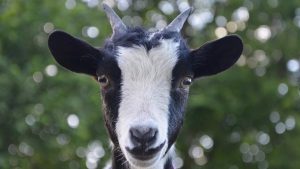 These are normie web pages, and all of them seem to shy away from food slaughtering and processing specifics. A family I know is researching Kiko's for food. FYI, goats and dogs don't always get along; even herding breeds of dogs sometimes maul or kill goats. Does anybody raise goats?
This page isn't great, but the two embedded videos are helpful.
Raising Goats – A Beginner's Guide has tons of information. It's probably a little more in-depth than only for beginners.
How To Shear Goats
Wash the goats and treat them for any parasite infestations a couple of weeks prior to shearing the herd.

Goats must always be clean and dry for shearing. A wet goat's mohair or cashmere will get tangled in the shears causing the animal pain and the shearer to spend a lot more frustrating time attempting to get the task completed. Even light rain can cause the goat hair to become too damp for proper shearing. For best and painless results, do not shear a goat that has been wet at all during the past 24 hours.

Use an air compressor hose or hairdryer on the lowest heat setting to blow away as much debris and dirt as possible from the goat fleece before shearing. Never position the air straight downwards to the goat but angled at the side to prevent pushing tiny debris deeper into the mohair or cashmere. Blowing air downward or holding the pressurized air too close to the goat will cause the fine hair to tangle and cause problems and potential injury when shearing.

Start the shearing of a goat by trimming a single strip from along the backbone onward in the direction of the withers.

Now, shear down the other side of the goat along the backbone, as well. But, this time keep the blades on the shearing tool parallel to prevent them from cutting the skin of the goat as you do along the animal's side.

Shear the shoulder area in an up and down motion instead of going from side to side to avoid nicking the thin flesh that surrounds the bones and runs between them.

Take special care when shearing the hind legs of the fiber goat to prevent hitting the tendon in the legs.

When shearing the underside of the goat, go slowly and pay close attention when trimming hear the testicles, penis, udders, and teats. Before starting to shear near these sensitive areas, make sure you have enough light and have positioned the goat high enough of a shearing – milking stand to ensure you have a complete view of the entire shearing area.

If any of the fiber goats possess wattles, use extra care when shearing around the animal's neck and chest.
This article comes with a helpful video and many great tips, including:
Best Milk Goat Breeds:

Nubian: This popular breed is a medium-large goat. They can produce up to 2 gallons of milk but average about 1 gallon each day. They have the highest milk fat content at about 5% fat. These goats are louder than other breeds, but their milk is ideal for soaps and cheeses. They can be milked all year long.

Alpine: From the French Alps, they are very hardy to cold temperatures. These medium-sized goats average 1 gallon of milk a day. They are originally from France and are durable and steady. They have one of the longest lactation cycles. Their fat content is about 3.5% milkfat.

Toggenburg: These bearded goats are good breeders. It produces about 3% milkfat. It is often bred with meat goats for dual purpose goats.

Saanan: This is one of the largest milk goats. It produces a lot of milk, up to 3 gallons of milk each day. Average production is around 1.5 gallons a day. The Saanen milk fat content is about 2.5-3% so it isn't as creamy as other dairy breeds. This breed is very calm and mild-mannered. These goats get to 200 pounds.

Nigerian Dwarf: These goats are half the size of average goats. They are great for smaller lots. They produce about 2 pints of milk a day, but they have a high-fat content. Their fat content is 6.1% of the milk. They are wonderful breeders and will have many kids. They are also very mellow and often used as pets. They will even be walked on a leash.

LaMancha: These funny-looking goats don't have any ears! But, they are very hardy animals and very friendly. They can produce 1-2 gallons of milk a day. Their fat content is 4.2% of the milk.

Oberhasli: Originally from Switzerland, these goats are well-suited for colder climates.  These goats don't produce milk year round but will produce about 1 gallon of milk a day. Their milk fat is about 3.5%. They are small and ideal for smaller spaces.

Best Meat Goat Breeds:

Boar: Native to South Africa. It has a fast growth rate and is very fertile. It has short horns. Boars come in red, red-white, or brown colors. They are disease resistant and used to hot dry areas. They are ready for slaughter as early as 90 days after birth and will grow to around 200-340 pounds for the bucks and 190-230 pounds for the does.

Spanish Brough: This goat was imported to the New World by the Spaniards. They have been raised for meat for hundreds of years. They do very well in most climates. They also breed more often than annually. They are also called bush goats, briar goats, wood goats, and scrub goats.

Kiko: This white goat is very hardy. It thrives in cold climates. It is fast-growing and can reach up to 300 pounds. It has spiral horns. The nannies are good mothers and low maintenance.

Pygmy: These goats are fertile. They breed every 9-12 months, which allows for more batches of kids. They are often used as pets because they are smaller goats. They grow to between 50-75 pounds.

Rangeland: The majority of the commercial goat meat comes from rangeland goats. They are generally low maintenance and thrive in dry conditions.

Kalahari: This goat is from South Africa and does its best in dry hot conditions. The meat is more tender than other varieties. They are reddish-brown and can kid multiple times a year. They are also disease resistant and durable.

Nubian: Good milk and meat goat. The males reach 175 pounds. They can be bred with boars for even larger offspring.

Black Bangle: This goat is used for meat primarily in Bangladesh. It is easy to feed and care for. It can have kids multiple times a year and usually has 2-3 kids twice a year. They are ready for reproduction at 15 months old. They are dark with medium-sized horns.
Verata: These goats are found mostly in Spain. They are durable, healthy goats. They do well in hot and cold climates. They are really good foragers and adapt easily. They are ready for meat at about 45 days. The does also provide a good amount of milk.