BY Herschel Smith

7 months, 2 weeks ago
A dog in South Africa adopted from the SPCA into a loving forever home has repaid her owners a thousandfold after two armed robbers broke into their house and opened fire. The mixed breed, Kei, was shot in the face while ferociously protecting the family's young lady.

Those armed intruders on Oct. 3 broke into the family's Lakefield Benoni home; one gunman entered the master bedroom, where a terrifying firefight ensued, and was shot dead; the other man entered the eldest daughter's room where Kei was poised on her bed ready to defend her owner.

Kei sprang at the gunman with a forcefulness that surprised him. He turned and fled, leaving a trail of blood as he ran down the stairs, and encountered the family's Biewer Yorkie Holly and shot her dead.

Hot on his tail, Kei faced the man in the kitchen where he shot her in the face, shattering her jaw, and then escaped the house and leapt over the wall.

Kei, in a desperate bid to seek help, yet unable to bark with her terrible mouth injury, ran outside to the gate to alert the neighbors but found no one. She then bounded down to the nearby lake, where she often goes on walks, in search of help, but to no avail.

The family, desperately searching for Kei, drove the streets and after 40 minutes found her laying in the grass by the water.

They called the Boksburg SPCA and Kei was taken for treatment. She was lucky to be alive. The bullet had severely injured her tongue, blasted through two molars, and broken her jaw.

She had to be put on an IV and could not eat for many weeks to come. Eventually, though, once the doctors were sure there was no infection and an X-ray showed that all the bullet fragments had been extracted, she was taken to have surgery and have a titanium plate prosthesis put in to restore her shattered mandible.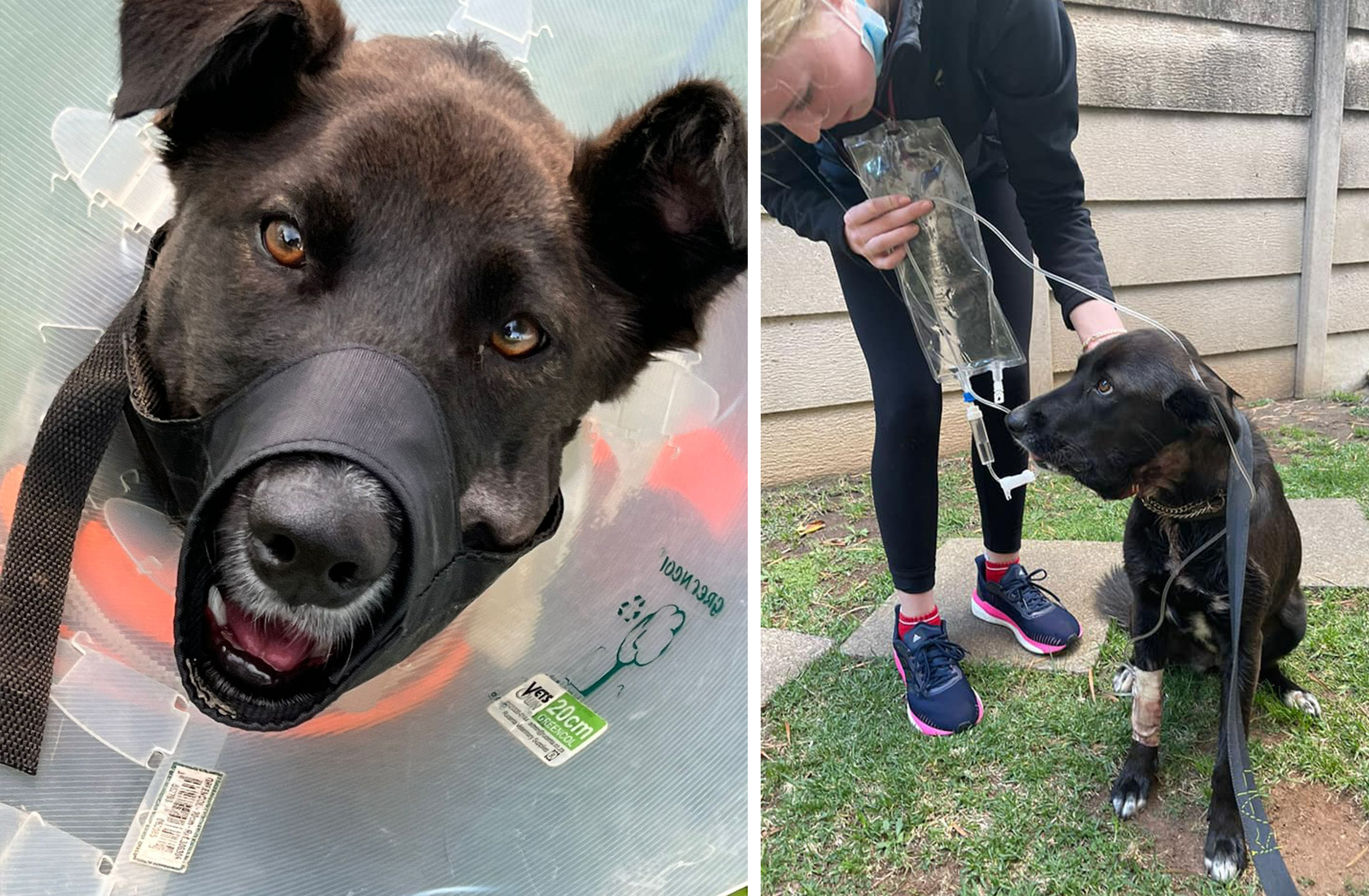 Get you one of them.  If you don't have a dog, you're missing out on one of the greatest opportunities for love and protection.  You're life will change.