BY Herschel Smith

3 years, 4 months ago
From reddit/firearms: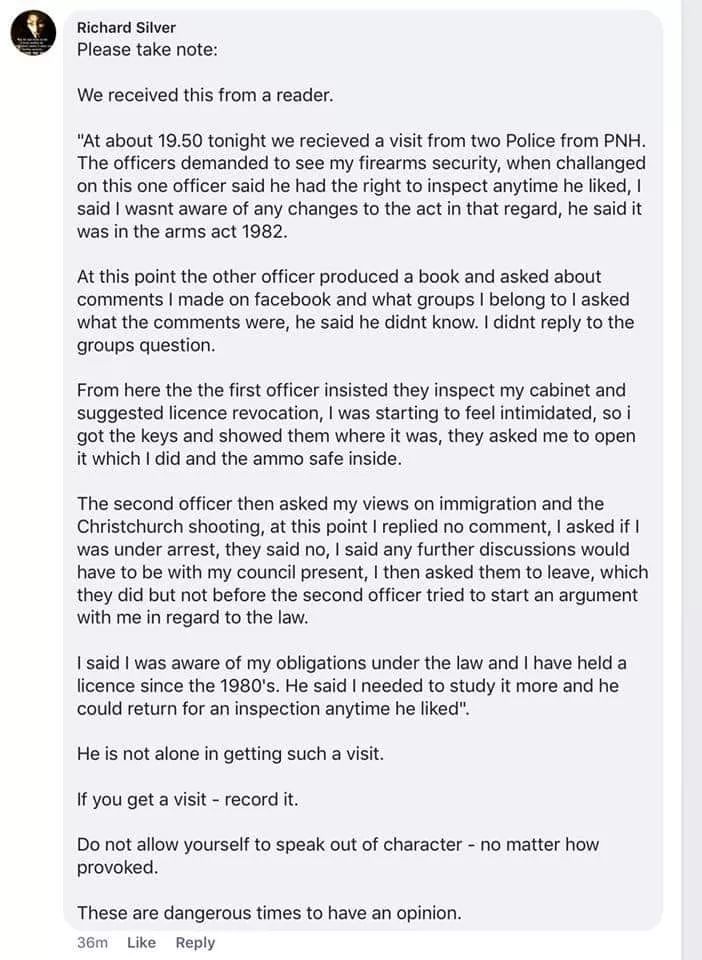 One never knows exactly what to think of some of the sources on reddit, this may be legitimate and it may not be.  But the weight of evidence is on the side of legitimacy.  Gateway Pundit has this.
Now that police in New Zealand are going door-to-door to confiscate firearms, which involves bird-dogging people at work and monitoring their online activity, one man who has gotten caught up in the covfefe was recently stripped of his airsoft BB guns and his crossbow.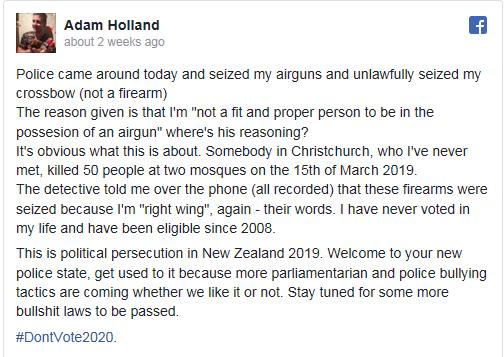 Here's the letter.
NOTICE TO SURRENDER AIRGUN OR ANTIQUE FIREARM

PURSUANT TO SECTION 41, ARMS ACT 1983

I, Inspector Olaf Karl Jensen, a Commissioned Officer of Police, hereby give notice that in my opinion you are not a fit and proper person to be in possession of an airgun or an antique firearm. Police are currently holding the following described airguns

1x Ruger Blackhawk .177 calibre Air rifle

1x Hatsun Striker .177 calibre Air Rifle

You may within three months after the date of this Notice or such longer period as the Commissioner of Police may allow, sell or otherwise dispose of any airgun or antique firearm owned by you to a person approved for this purpose by a member of the Police.

Failing that, all airguns or antique firearms delivered to a member of the Police may be detained for such a period as the Commissioner of Police thinks fit, or may, in the discretion of the Minister of Police, become the property of the Crown, free and discharged from all right, title or interest possess in respect thereof by any person.

You may by way of origination application, appeal to a District Court Judge against this Notice. (Section 62, Arms Act 1983 refers).

My reason for this decision is as follows;

1. I do not believe you to be a fit and proper person to be in possession of an airgun.

2. Police hold serious concerns regarding your mental and emotional wellbeing.

Should you wish me to review my decision or you dispute the facts you may make written submissions or arrange an appointment with me within two weeks of the date of this notice.

Any submissions you do make must be accompanied by a letter from a medical practitioner attesting to your mental and emotional wellbeing at this time.
His next related post to Facebook reads thusly.
** THIS JUST IN **

The police reasoning (over the phone) for taking my airguns is that I'm a "right wing white supremacist"

When asked further, they said it's because I've been on the record supporting US President Donald Trump.
You can't freely support the US President in New Zealand without facing persecution.
Here is the states there's that pesky second amendment thing.  The elitists are doing their dead level best to get around that with red flag laws (so-called extreme risk protection orders).  When Ms. Lindsey Graham and the democrats get finished with a federal red flag law, Trump will sign it.
And then Trump owns it – that and the bump stock ban.  It defines who he is, and who he will ever be.  As for Ms. Graham, the stupid voters of South Carolina will put him in office for yet another six year term.