BY Herschel Smith

5 years, 7 months ago
Reader and commenter Fred sends this report.
A large bear attacked and wounded a North Carolina hunter who says he's lucky to have survived the encounter.

Mike Wilson was hunting on a hill in Mitchell County, in the mountains of western North Carolina, when he came face-to-face with the 390-pound bear, WLOS-TV in Asheville reported Wednesday.

"The bear was coming up the hill, and I was coming down the hill," Wilson told the station.

Wilson said he did what any hunter would do in that situation.

"Shoot it, of course. And I did," he said. "But trying to get another shell in my gun, it just overrun me and knocked me down the hill."

The bear also attacked three of Wilson's hunting dogs, killing one.

WLOS reports the bear slashed Wilson in the face and neck with its paw. He said the animal came close to severing his jugular vein.

Doctors stopped the bleeding with 30 stitches.

The bear ran off after the attack and hid in a hole. Another hunter later shot and killed the bear, the station reported."
They were hunting with dogs.  "The bear got him and got away. It hid in a hole, but not before injuring two dogs and killing another," according to WLOS.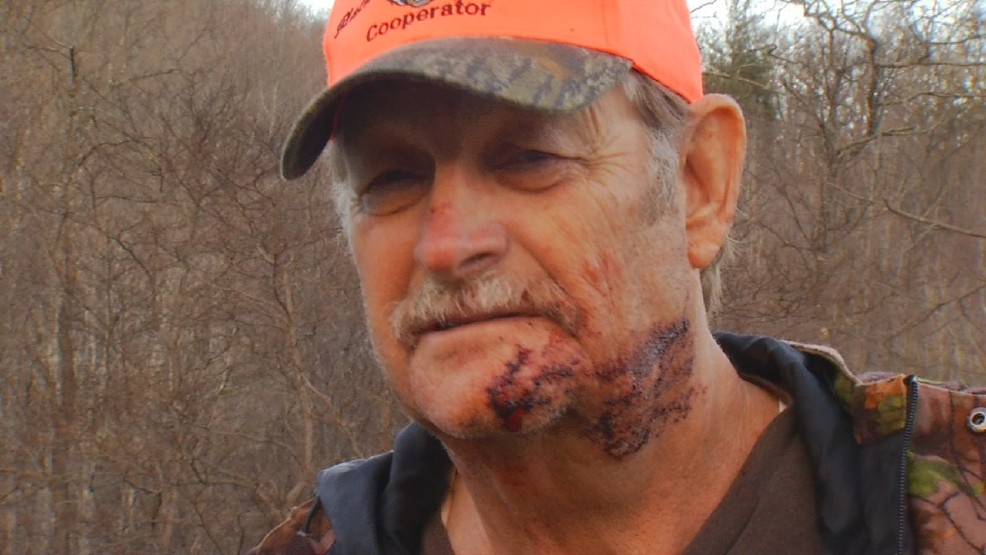 "A person with the N.C. Wildlife Resources Commission advised when you see a bear, face it and slowly walk away. You don't want to turn your back to a bear."
Hey, I have a different suggestion.  Always carry a side arm when you're in the bush.  I know that brown bear is especially dangerous on the West coast and Northern states, but black bear can be quite dangerous too.  In addition to whatever long gun you're carrying, care a pistol or revolver with you, capable of being reached very quickly.  If you carry a pistol rather than a revolver, make sure that you have confidence in it, and that it's not prone to stovepipes, FTF and FTE.  And make sure you are well schooled in clearing weapon malfunctions under pressure.
One of the most surprising things about this report is that dogs are used to run deer, black bear, mountain lion (in Colorado and other states in the West), and feral hogs, among other animals.  Most animals in North America will run from a pack of dogs.  Not a single dog, but a pack of dogs.  In this particular case, three dogs didn't constitute a pack.  Mike's inability to get off another shot probably cost him a very expensive hunting dog.
One particularly amusing things about this report is found in the comments.
I'm not against hunting for food or carrying a weapon for protection, but for the life of me I will NEVER understand hunting for sport.  I cannot understand a mindset that finds pleasure in killing an animal just for fun.  To me, that's demented.
Well, to each his own view, but let's be clear here.  As we've chronicled before, modern game management techniques have increased herd sizes to vastly larger than they were 100 years ago or even more.  There are too many deer, too many Coyotes, and way too many feral pigs.  Feral pigs have closed down farms in Georgia due to the ecological carnage wrought on the land, and lethal removal isn't enough.  It's not even nearly enough.
There are Coyotes in inner city Chicago, and there are wolf-dog-coyote DNA admixtures all throughout the East and Southeast.  As I've mentioned, I've had Coyotes jogging down the road towards me in my own neighborhood.  The modern Coyote mixture, being a hybrid, is much more aggressive than it once was, and it's much harder to turn them back.
Hunters will tell you that they can deal with one Coyote.  And they will tell you if they're hiking to a tree stand in dusk and see multiple eyes on them (Coyotes also travel in packs), hunters will get out as quickly as possible.  If you are ever confronted by a pack of Coyotes, you'd better have means of egress or a good semi-automatic rifle.  An AR-15 would be perfect.  It wouldn't for bear, black or brown.  Even carry a gun with you while you're walking your dog.