BY Herschel Smith

7 years ago
In Pizzagate (we'll call it Pizzagate 1), I linked the subreddit on Pizzagate as being the front end of the work to turn over the skeletons in Pizzagate (4Chan being the source of much of the analysis, while Wikileaks is the origin of the source material that started this whole thing).
This subreddit has been deleted for alleged Doxxing.  I wish it wasn't so because reddit is easy and fast to access, with good coding support when something goes wrong.  But the new home for the Pizzagate investigations is now https://voat.co/v/pizzagate.
It will take some time for full migration of users and adjustment of coding to handle the additional users.  Give it this time to mature.  In the mean time, I want to point out a few developments.
One of the entries that included a lot of links for your study can be found with the WayBack Machine.
Next, The NYT did an article allegedly debunking the whole notion of pizzagate, but I won't link it here to send them traffic because it was worthless, with absolutely no factual content or research.  There were also many errors.  This is a migrated post that fisks the NYT article.  The fisk is conclusive and thorough, but I wanted to include one specific excerpt.
MISLEADING CHRONOLOGY: Kang commits a sleight-of-hand when she reports that Alefantis "looked online to unravel the accusations" right after he and his staff started receiving hate messages. Comet Ping Pong was first stumbled upon in the wee hours of November 4th. Alefantis' instagram and Facebook accounts started getting threatening messages within hours from overzealous idiots on 4chan.

The Vigilant Citizen article that Kang cites was posted on November 15th, ELEVEN DAYS after Alefantis was first "exposed" on 4chan and reddit. Thus, there's no way that Alefantis did a quick google search on November 4th and found the VC article.

If Kang had done a simple google search, she would've seen that on November 6th (within 48 hours of exposure), Washington City Paper published "Alt Right Conspiracy Theorists Obsess Over Comet Ping Pong", featuring interviews with "Pizza Party Ben" and James Alefantis: http://www.washingtoncitypaper.com/food/blog/20840980/alt-right-conspiracy-theorists-obsess-over-comet-ping-pong
All it takes for the article to be proven a lie is to find one major error such as this one.  But there are a lot more problems than this.
Thus the writer knew nothing when she wrote the article, and knows nothing now.  This NYT article is fake news.  That (Pizzagate is fake news rather than the idiotic debunking by the NYT) is what the MSM wants everyone to believe, it's what the clan of criminals is trying to convince everyone to believe.
Yes, every man I know talks about handkerchiefs and pizza and the ages of children.  Yes, every family-oriented pizza parlor I know has drag shows.  Yes, every man I know posts pornographic pictures to Instagram.  Yes, every family-oriented pizza parlor I know has sadistic "artwork" on the walls, and every man I know hangs out with convicted child traffickers and pedophiles.
Um … no.  None of those things is true.  I don't know anyone like that.
As a final note, I receive a lot of interesting traffic to this site, once from the executive office of the POTUS, once from the offices of the SCOTUS, many visits from military network domains (Army, DoD, Navy which includes Marines, etc.), State Department, Department of "Justice," and on the list goes.  I got such hits when I covered rules of engagement and my son's deployment, but I continue to and I've kept my original military and government readers, or I've lost them and added some more in their place.
Today I received one from the CIA.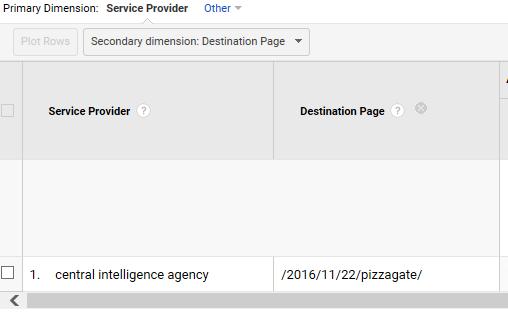 So tell us why you're here sir?  In fact, you and the NSA know all about these awful things and haven't told anyone about the suffering children.  Such a thing might affect your comfy home in White Flint, or Bethesda.  Why don't you drop me a line and tell me about it?  Doubtless, you know more than I do.  So why were you here?