BY Herschel Smith

7 years, 11 months ago
You never knew that Howwitz was a tactical expert, did you?  Well, to be precise, the design of the AR-15/M-16/M-4 (or in other words, the Stoner family of arms) places the recoil along the axis of the firearm, as opposed to there being a couple about the firing hand because of the off-axis recoil and the buttstock being lower than the axis of recoil.
The pistol grip is a function of the rifle design, not vice versa or for some unrelated reason.  In other words, one couldn't hold and shoot the firearm without it because the hand would be turned 90 degrees.  Round 1 versus rounds 2 to 100 is irrelevant, and Josh doesn't know what he's talking about.
As for forend grip, if that's what he's referring to, some folks would dispute the notion that holding a forend grip (as opposed to using it as a point of reference and a spring loaded bipod) assists the shooter at all.  Specifically, the thumb-over-bore grip or otherwise termed the C-clamp grip has become popular among some shooters.  It started in the gaming community, was adopted by some special operations guys, and is now commonly seen at ranges, and certainly in training videos by folks like Chris Costa and Travis Haley.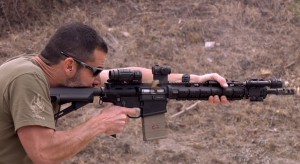 In this picture, Chris Costa is using a reflex sight and a flip-to-side magnifier like I do, although not the reflex sight I use (EOTech), along with (what looks like) a Surefire M600 tactical light system.  My forend grip isn't as high as his.
Some operators don't even run a forend grip if the mission exclusively involves rapid target acquisition.  As for the main pistol grip, aside from the idea that it is necessary given the weapon design, there is no evidence that use of a pistol grip ipso facto ensures better accuracy or precision on any particular sequences of rounds (on the other hand, the recoil being directed along an axis is intended to aid in rapid target re-acquisition, but Josh didn't say that).  So again, Josh Horwitz doesn't know what he's talking about.  But you knew that already.
Practice, test, be an engineer and mechanic.  Use whatever weapon design and particular set of additions to your weapon that works best for you.  They'll never get our ARs.  The modularity of the AR-15 is one of its best features.  Josh Horwitz can trust the police to protect him.  As for you, trust God, and use your guns.