BY Herschel Smith

8 years, 9 months ago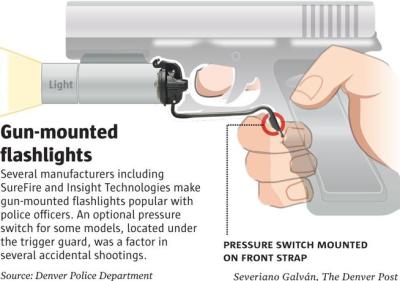 Ronny Flanagan took pride in his record as a police officer in Plano, Texas. He had an incident-free career. He took safety training regularly. He was known at the range as a very good shot.

Yet he killed a man when he was simply trying to press a flashlight switch mounted beneath the trigger on his pistol.

In a deposition, Flanagan expressed his remorse and made a prediction.

"I don't want anyone to ever sit in a chair I'm in right now," he said. "Think about the officers that aren't as well trained, officers that don't take it as seriously, and you put them in a pressure situation, another accident will happen. Not if, but will."
Flanagan was right. Three months after the October 2010 shooting in Plano, a 76-year-old man took a bullet in the stomach from a New York police officer trying to switch on the same flashlight model.

At least three other people in the U.S. over the past nine years have been shot accidentally by police officers with gun-mounted flashlights, an investigation by The Denver Post found. Two victims were fellow officers.

In Colorado, Denver's police chief banned the use of tactical flashlights with switches below the trigger guard after two officers accidentally fired their guns last year.

One of the officers may have shot a suspect when his finger slipped from the flashlight switch to the trigger, firing a bullet into a car window of the fleeing driver.

[ … ]

In Plano, Flanagan tried to shine his flashlight on a suspected drug dealer in a dark parking lot outside a fast-food restaurant. Instead, he shot and killed Michael Alcala, leaving a 2-year-old boy fatherless.

"I don't think it's a very good idea to have any flashlight on a gun. You're turning it into a loaded flashlight," said Luke Metzler, a lawyer who sued Plano and the flashlight maker on behalf of the son, Michael Alcala Jr.
Here's what's happening.  In order to depress the pressure switch, shooters (in this case, cops) are squeezing their third finger, and because they have no control over their sympathetic muscle reflexes, they are also squeezing their trigger finger at the same time.  Suing the manufacturers of flashlights is about as nonsensical as I can imagine.  That's like suing a hammer manufacturer because I may choose to hit someone over the head with it.
But what does this also show us?  The astute reader says, "that cops are (a) using their weapon mounted light as a tactical light to see things in the dark, violating requirements for muzzle discipline, and (b) they have their finger on the trigger of their weapon, showing that they are violating requirements for trigger discipline.
Recall what I said about this?
My son was a SAW gunner in the 2/6 infantry, Golf Company, 3rd Platoon, during the 2007 combat tour of Fallujah and the pre-deployment workup.  The senior Marines had experienced a tour of Iraq, and wanted their SAW gunners to have a round in the chamber, bolt open (the SAW is an open bolt weapon anyway), and finger on the trigger.  They had seen combat and they wanted their SAW gunners with zero steps to shooting.  Their lives depended on it.  They also did CQB drills with live rounds, along with squad rushes.

My son had an ID (if I'm not mistaken it was during training at Mohave Viper).  He tripped and had a sympathetic muscle reflex, squeezing the trigger of his SAW.  He spent an extended period of time in the "room of pain."  They wanted him trained to overcome that sympathetic muscle reflex (which can be done, but it takes hundreds or thousands of hours of drills).  He spent the time learning to overcome that reflex, and performed well during his tour.  He also tried to teach his "boot" Marines the same way he was trained, but the Marines had begun to change and focus more on cultural sensitivity training and other COIN tools.  He got out of the Marine Corps.

Why am I discussing this?  Because no matter who you are, no matter how much time you spend, no matter how earnestly you wish it, no matter how many directives you write, if you are a SWAT team member, you will never be trained in such a manner.  Never.  You will never be trained like a U.S. Marine who has spent every day for a year and a half in pre-deployment workup to do a combat tour of Iraq.  Because you will never be trained in this manner, your tactics are dangerous, all of the time, and in all situations.  I don't care how many times you have inexperienced Soldiers spend a week with you doing CQB drills.
As for cops, if they obey the same rules as we do, this kind of thing won't happen.  And I don't care how sad Ronny Flanagan is over this.  The shooting is his fault.  Period.
If you keep your booger hook off of the bang switch, the gun won't go boom.  And for the sake of everything that is sensible, good and righteous, don't use your weapon mounted tactical light as a flashlight so that you can see things in the dark.