BY Herschel Smith

10 years, 10 months ago
In order to demonstrate my good-natured and cooperative spirit concerning new firearms regulations, with Jay Carney and Mr. Obama I've come out strongly against High Capacity Magazine Clips, like this: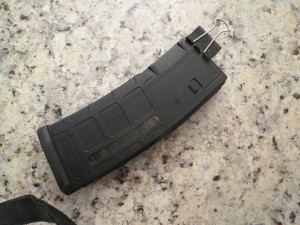 From National Journal, here is yet another potentially problematic feature of firearms that needs to be regulated.
It will also be tricky to determine just how many automatic bullets should be allowed in a rapid-fire magazine clip. Three? Ten? Twenty? Democrats in favor of restricting high-capacity magazines say that three bullets is enough to kill a duck or a quail. Fair enough, but gun enthusiasts say that 10 or 20 rounds makes more sense for people who possess firearms for self-defense purposes. How do negotiators strike a deal on that one?
I'll tell you how.  We firearms owners stipulate that automatic bullets in rapid-fire magazine clips won't be tolerated.  Now that I've compromised and met my detractors in the middle, be warned and walk with caution.
I won't tolerate any more challenges to or infringements upon my second amendment rights and God-given duty of self defense.  And just to let you know that I'm serious, remember that I have guns and I'm willing to use them.  No, seriously.  I'm willing to use them to make sure this doesn't happen.
Prior: High Magazine Clips And The Shoulder Thing That Goes Up