BY Herschel Smith

8 years, 9 months ago
Mr. Obama on the violence happening just blocks from his own home.
In one of the more dramatic moments of the half-hour special that covered topics on young voter's minds ranging from the skyrocketing cost of student loans to guaranteeing equality for same-sex, Calloway read a comment from Chicago native Raven, who described her city as a "war zone."

Calloway asked the president not only how he responds to charges from New York's Mayor Michael Bloomberg that both Obama and challenger Mitt Romney are talking about gun violence but not suggesting any action, but also how he would personally respond to this epidemic if re-elected.

"Raven comes from my hometown and Chicago has seen a huge amount of gun violence, especially among young people," said Obama. "What I've said is that we've got to have an 'all-of-the-above' approach. We have to enforce our gun laws more effectively. We've got to keep them out of the hands of criminals. We've got to strengthen background checks."

Obama said his administration has done a lot of those things, but what also needs to be done is work with local law enforcement groups and faith groups and community organizations to ferret out that broader sources of violence in those neighborhoods.

"I live on the South side of Chicago," said Obama, who maintains a residence in the city's Hyde Park neighborhood, in which tony homes sit just beside some of the city's most economically challenged areas. "Some of these murders are happening just a few blocks from where I live. I have friends whose family members have been killed."

Clearly a personal issue for Obama, the president got more solemn when talking about the upswing in violent deaths in the city after decades of decline. "What I know is that gun violence is part of the issue," he said. "But part of the issue also is kids who feel so little hope and think their prospects for the future are so small that their attitude is, 'I'm going to end up in jail or dead.' And they will take all kinds of risks."

With that level of nihilistic thought, the president said we have to ask if we're providing those children's parents with enough support from an early age, and are those kids getting early childhood education so that when they walk into school every day they feel they can succeed? "If they've got mental health issues, are they getting the kind of services and counseling that they need early on?" he said.

"Are we making those investments in those young people so that by the time they're 11, 12, 13, 15 … they can make responsible choices because they feel they've got something at stake?"
Ah.  There it is.  Man is a tabula rasa.  Pour enough money, support, education and counseling into him and he'll turn out okay.  Take the guns away and give them some money.  That'll fix 'em.
But I'm just wondering about that trip I took this last weekend to Jocassee Gorges.  We passed all manner of poor, impoverished folk on our way, and homes that would hardly have qualified to be in the inner city of Chicago.  They would have been condemned.  But the people weren't uninitiated or killing each other.  They all had guns, and it was bear season (with dogs), and in Greenville, Pickens and Oconee county there were more than 800 bear hunters active in the area.  We were carryng guns too.  Here is a picture of Jump Off Rock at Jocassee taken by my son Joshua.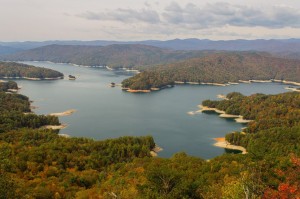 Guns and poverty, but no crime.  Well, enough of my anecdotal observations.  Let's turn to something more scholarly (via Scotty Starnes).
The recession of 2008-09 has undercut one of the most destructive social theories that came out of the 1960s: the idea that the root cause of crime lies in income inequality and social injustice. As the economy started shedding jobs in 2008, criminologists and pundits predicted that crime would shoot up, since poverty, as the "root causes" theory holds, begets criminals. Instead, the opposite happened. Over seven million lost jobs later, crime has plummeted to its lowest level since the early 1960s. The consequences of this drop for how we think about social order are significant.

The notion that crime is an understandable reaction to poverty and racism took hold in the early 1960s. Sociologists Richard Cloward and Lloyd Ohlin argued that juvenile delinquency was essentially a form of social criticism. Poor minority youth come to understand that the American promise of upward mobility is a sham, after a bigoted society denies them the opportunity to advance. These disillusioned teens then turn to crime out of thwarted expectations.

The theories put forward by Cloward, who spent his career at Columbia University, and Ohlin, who served presidents Kennedy, Johnson and Carter, provided an intellectual foundation for many Great Society-era programs. From the Mobilization for Youth on Manhattan's Lower East Side in 1963 through the federal Office of Economic Opportunity and a host of welfare, counseling and job initiatives, their ideas were turned into policy.

The 1960s themselves offered a challenge to the poverty-causes-crime thesis. Homicides rose 43%, despite an expanding economy and a surge in government jobs for inner-city residents. The Great Depression also contradicted the idea that need breeds predation, since crime rates dropped during that prolonged crisis. The academy's commitment to root causes apologetics nevertheless persisted. Andrew Karmen of New York's John Jay College of Criminal Justice echoed Cloward and Ohlin in 2000 in his book "New York Murder Mystery." Crime, he wrote, is "a distorted form of social protest." And as the current recession deepened, liberal media outlets called for more government social programs to fight the coming crime wave. In late 2008, the New York Times urged President Barack Obama to crank up federal spending on after-school programs, social workers, and summer jobs. "The economic crisis," the paper's editorialists wrote, "has clearly created the conditions for more crime and more gangs—among hopeless, jobless young men in the inner cities."

Even then crime patterns were defying expectations. And by the end of 2009, the purported association between economic hardship and crime was in shambles. According to the FBI's Uniform Crime Reports, homicide dropped 10% nationwide in the first six months of 2009; violent crime dropped 4.4% and property crime dropped 6.1%. Car thefts are down nearly 19%. The crime plunge is sharpest in many areas that have been hit the hardest by the housing collapse. Unemployment in California is 12.3%, but homicides in Los Angeles County, the Los Angeles Times reported recently, dropped 25% over the course of 2009. Car thefts there are down nearly 20%.
In shambles.  Just like Obama's economy.  And just like the consulate at Benghazi.  And just like our strategy in Afghanistan.  And just like trust and confidence in government honesty after Fast and Furious.
There you have it.  Impoverished or rich, I think I'll keep my guns.  They have nothing to do with the choice to commit violence.  That's a moral choice.