BY Herschel Smith

12 years, 6 months ago
Following up Counterinsurgency Successes in Afghanistan, C. J. Chivers and Tyler Hicks bring us another compelling acccount of combat in the Korangal Valley, Afghanistan.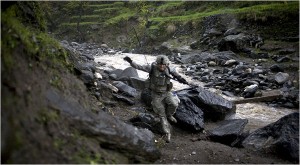 Specialist Robert Soto ran for cover last week as his platoon was ambushed in Afghanistan. Across the river, two comrades crouched behind a rock.
The Taliban opened fire. The ambush was on.

Lieutenant Smith asked Sergeant Tanner for a report. The blast had blown the sergeant off his feet, spinning him around and throwing him down. He was disoriented. He said he thought he had all of his men.

As the firing neared its peak, Lieutenant Smith ordered the men around him to disperse so they could not all be struck by a single burst of fire. Then he provided covering fire so the artillery observer and a machine gun team could run back across the first bridge, gain elevation in Aliabad and cover the squad in the field.

A soldier caught in an ambush — looking for safety while returning fire, with ears ringing and skin pouring sweat — can feel utterly alone, trapped in a box of crisscrossing lead and terrifying sound, with death an instant away.

He is actually part of something more complicated. Bullets flew down into the riverbed from three sides. But as the lieutenants worked their radios, soldiers outside the kill zone were trying to erode the Taliban's opening advantage.

Within the platoon, the squad in the rear of the column set up its machine guns and was firing on several of the Taliban shooting positions. A group of Afghan National Army soldiers, directed by a Marine corporal, was also firing.

In American firebases on ridges along the valley, soldiers with heavier machine guns and automatic grenade launchers focused on Afghan buildings in three villages — Donga, Laneyal and Darbart — from where the trapped platoon was taking fire.

Farther back, at Company B's outpost, a pair of Air Force noncommissioned officers was directing aircraft into position, while two 120-millimeter mortars were firing high-explosive and white phosphorus rounds at targets the platoon had identified.

Alternately crouched and standing on the open rock spur, the lieutenants rushed to influence the fight and plan an escape from the trap. Once the American response began to build and the Taliban firing subsided, Lieutenant Rodriguez told Lieutenant Smith, they would throw smoke grenades along the river bank and pull back.
This is extremely compelling reporting.  Read the entire article at the New York Times.  There are many observations to be made, but perhaps at a later time.