BY Herschel Smith

14 years, 10 months ago
The Amphibious Dock USS San Antonio has something to teach us about Iran and its intentions.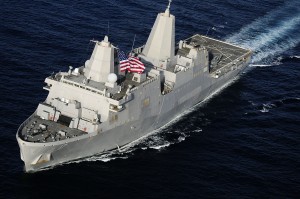 But before learning from the USS San Antonio, a framework must be constructed within which to view this information.  David Ignatius authored an article for the Washington Post on the A-Team for Iran.  Ignatius likes Zbigniew Brzezinski and Brent Scowcroft because of their ability to help American foreign policy "turn a page," so to speak.  Ignatius asks the two how they would begin negotiations with Iran.
Scowcroft replied that his brief to the Iranians would begin this way: "First, that we're aware you live in a dangerous region, and we're prepared to discuss a regional security framework. . . . Second, whether or not you want nuclear weapons, you're proceeding on a course that psychologically destabilizes the whole region. It is dangerous. It will bring about a counterreaction. And let's work on this security framework. You don't need nuclear weapons."

Brzezinski said he agreed and added: "The only way we can accomplish [mutual security] is by sitting together and figuring out some mechanism whereby you achieve what you say you want, which is a peaceful nuclear program, and we achieve what we need, which is a real sense of security that it's not going to go any further."
The obvious but unstated presupposition is that Iran is pursuing a nuclear program, and indeed, behaves as it does, because of its fear and need for survival, or in their own words, "mutual security" in a dangerous region.  That no nation has threatened them, and that no nation in the region would even be able seriously to threaten them, doesn't weigh in on the axiom.  It is simply irreducible, the notion that Iran would live in peace with its neighbors if only it could assure its own security.
All mathematics and in fact all philosophy begins with presuppositions, propositions that are unproven because they cannot be proven.  But the investigation doesn't end here.  When a system of thought based on these presuppositions yields conclusions, results, observations and consequences that are radically inconsistent with what would be expected given the presuppositions, then something is wrong with the starting point.  Under these conditions, one must be willing to relinquish his presuppositions.
That Iranian weapons, special groups, IRG, Quds and other rogue forces supported by Iran (Ansar al Sunna) created havoc inside of Iraq hasn't been enough to convince the two A-Team members that Iran doesn't intend on having peace in the region.  Neither, for that matter, does the fact that General Petraeus had to appeal to Iranian General Qassem Suleimani to stop the shelling of the Green Zone in the summer of 2008 (at which point it stopped) convince the A-Team that their ideas of a docile Persia just may not be panning out.
But this unwillingness to revisit presuppositions isn't baggage carried by the Arab states.  In fact, the Arab states never started with these ideas.  They are uniquely Western.  With Iran's push towards going nuclear, the balance of the Middle East is thinking the same way, and not because they need the energy.
The outstanding Middle East journalist Michael Totten has an important article on how the Sunni Arabs see Iran, and the role Israel is playing in regional resistance.
Most Arab governments, aside from Syria's and possibly Qatar's, are far more worried about Iranian regional dominance than they are about anything coming out of Tel Aviv or Jerusalem. They know perfectly well that the State of Israel is not going to undermine or overthrow them, while radical Iranian-sponsored Islamists just might.

Egypt and Saudi Arabia are threatening Iran with a nuclear arms race. Surely they weren't happy when Israel developed nuclear weapons, but they never retaliated with programs of their own. Bombastic anti-Zionist rhetoric to the contrary, they know Israel isn't really a threat. Nor are they a serious threat to Israel anymore.
While the Arab states fear for their very existence, the A-Team wants to convince the radical Mullahs that they aren't in any danger.  They wish to tell the regime that it doesn't need nuclear weapons for its defense, while the regime has flatly told them that negotiations and dialogue will only succeed if the U.S. accepts the Iranian nuclear program.  It isn't just the evidence of Iraq, Hezbollah, Hamas, trouble in Iraq, and threats against the state of Israel that is available to convince the A-Team that they must revisit their fundamental axioms about Iran.  In fact, it's not even the conservatives in America (who have mostly given up).  The Iranian regime itself is trying to convince the U.S. that what they believe about Iran is fundamentally wrong by dictating a starting point for negotiations that ensures that the end game is diametrically opposed to what the U.S. wishes.
And now to the USS San Antonio.
The U.S. Navy has assigned an amphibious transport dock ship, the USS San Antonio, to track Iranian weapons shipments to the Gaza Strip.

Officials said the San Antonio, flagship of Combined Task Force 151, intercepted and searched an Iranian-owned cargo ship in mid-January found to contain artillery, missiles and rockets. The ship was released and expected to arrive in Syria on Jan. 28.

Adm. Michael Mullen, the chairman of the U.S. Joint Chiefs of Staff, said the weapons ship intercepted in the Red Sea was determined to have been destined for Syria, a leading supplier of Hamas and Hizbullah. Mullen said the United States could not legally hold the Cypriot-flagged ship, owned by Iran.

"The United States did as much as we could do legally," Mullen told a briefing on Jan. 27.

"There are authorities, limitations in complying with this particular UN resolution, and we basically went right up to the edge of that and we couldn't do anything else. And we think those weapons are headed to Syria, which is obviously not a great outcome …shipping weapons to Syria that we think, quite frankly, are going to end up in Gaza."
We learn many things about our own struggle with lawfare versus warfare with this example.  But saving this for another time, the U.S. has interdicted a ship bound for Syria with artillery, missiles and rockets.  Whether these weapons end up with Hezbollah or Hamas is not relevant.  They will end up destabilizing the region over nation-states which are not a threat to its own existence.  The weapons will end up contributing to the regional hegemony that Iran has pursued for twenty five years.
While the A-Team is confused about presuppositions, they don't hold the exclusive right to dreary stubbornness regarding Persian intentions.  This has been going on for twenty five years now, and thus, the same page that has been read for twenty five years is being recited once again.