BY Herschel Smith

4 years, 4 months ago
Via Kenny, Matt Bracken weighs in on the use of bicycles.
I used to jog a few times a week for cardio until I passed age sixty and my knees said no más. Since then I've switched to cycling instead, which doesn't bother my knees in the least. Obviously there are cardio benefits to riding a bike, but less appreciated is how much riding does for your sense balance, coordination and agility, especially as we grow older.

I've owned the big steel-frame Schwinn bike in the photo since the 1980s and it's still going strong. I use it to run errands within 3 or 4 miles of home base, which allows me to recon all of the back streets and trails inside that radius in a way that cannot be replicated in a car or on foot. I made the big rack so I can carry 30 pounds or so of cargo with no problem. In the front pouch I carry a cable lock, a basic tire repair kit, shock cords and so on. A pistol or other weapon can also be carried there.

[ … ]

By day or night, I also routinely pass within yards of people who have their backs turned to me who are totally unaware that a person is rolling right past them nearly in touching distance, such as when they are checking their mail box. As long as the pedal crank is kept moving, there isn't even the quiet sound of clicking gear ratchets. The only sound is that of the tires rolling on pavement, and that's not much.

For patrolling your neighborhood a bike fits an ideal mid-point niche between foot and automobile patrol. Here are the numbers: a brisk walking pace is 4 mph. The posted speed limit for cars in my neighborhood is 25 mph, but they often go faster. An easy cycling speed is about 12 mph. A car or truck obviously has the biggest visual signature, and its fast arrival speed once it's spotted is expected. However, a person on a bike only has about the same visual signature as a pedestrian, yet he's moving three times as fast. The relatively fast speed while retaining a small visual signature probably explains the remarkable stealth properties of the patrol bike.
As readers know, I bike single track, but I'll bike literally anywhere.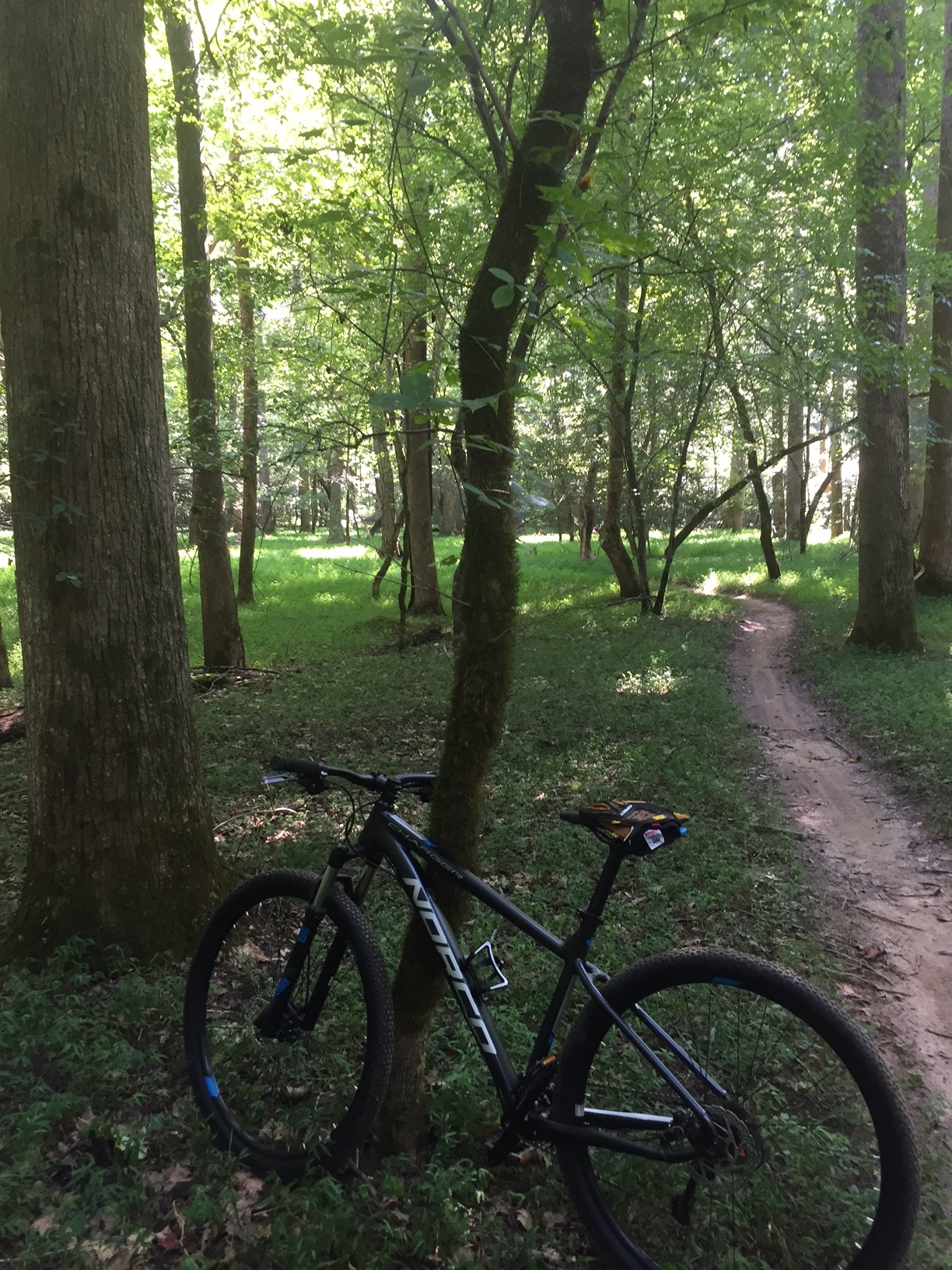 I ride a Norco, and while you must get what you can afford, I recommend that you spend what you need to get a good ride.  I still ride a "hard tail."  The dual suspension bikes are very expensive, and if they're name brand carbon frames, they are prohibitively expensive for me (they can run $6000+).
Matt goes on to recommend tools, all of which I have.  They tear up, especially if you abuse them on single track like I do.  I dry-lube my chain before every ride.  Because I beat mine up so badly on mountains, I've learned to carry zip ties with me.  I'm always knocking cables loose.  I also carry a bike hex-wrench set, a mini-pump, spare tube, water, gun, energy bars, 550 cordage, rain gear, gloves, tactical knife and sun glasses.
My knees don't bother me as much as some folks, probably because I never got into running.  The impact force on knees from running is a good reason not to do it, and a good reason to ride a bike instead.  My rides are usually at least 8-10 miles (single track), sometimes 20-22 miles, but rarely over 30.
I confess I had never thought of the virtues of the neighborhood patrol using bikes.