BY Herschel Smith

3 years, 4 months ago
MEF:
An ominous indication of what lay in store for the religious minorities was afforded as early as December 1998 when Erdoğan, then mayor of Istanbul and an opposition politician, announced that the "mosques are our barracks, the domes our helmets, the minarets our bayonets, and the faithful our soldiers," quoting a line from a poem by the nineteenth-century nationalist poet Ziya Gökalp underscoring the Islamist foundation of Turkish identity.

[ … ]

On December 28, 2016, for example, in the western province of Aydin, the ultra-nationalist Islamist group Alperen Hearths staged a forced conversion of Santa Claus to Islam, putting a gun to the head of an actor dressed as Santa Claus. A representative of the group explained the staging of the conversion this way:

Our purpose is for people to go back to their roots. We are the Muslim Turkish people who have been leading Islam for thousands of years. We will not celebrate Christian traditions and disregard our own traditions like Hidrellez, Nevruz, and other religious national holidays.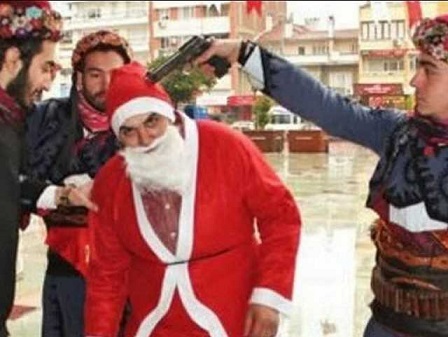 Well, be warned boys, I don't believe in Santa Claus.  But what I do believe in is shooting people who threaten me, my family or my way of life.
Consider yourselves warned.  No, seriously.  Remember this, boys.  I hope you're reading this.
Oh, and by the way, you're holding the gun like a girl.  No, wait, that's misogynistic.  My daughter holds her gun way better than you.  She would kick your ass.