BY Herschel Smith

7 years, 7 months ago
The following may (or may not) represent what I carry, depending upon circumstances.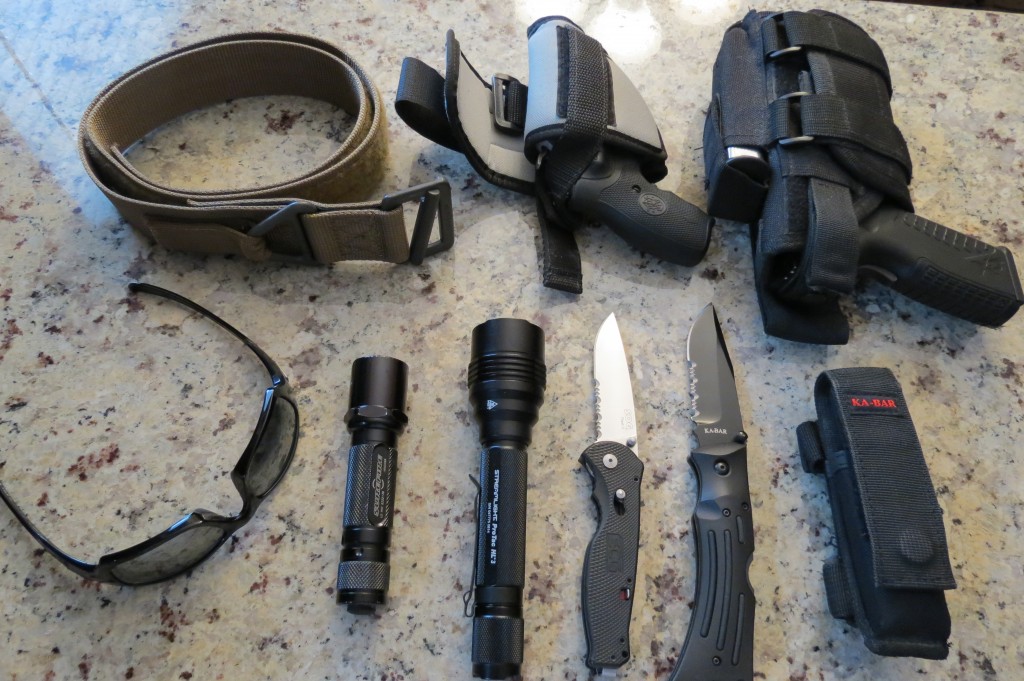 Blackhawk rigger's belt, Springfield Armory XDm, .45 ACP in UTG soft holster with additional magazine (because I don't like Kydex), .38 Spl S&W Air Weight revolver with wrap-around ankle holster, Ka-Bar folder with sheath, SOG Flash II folder, old standby Surefire 6P (it has been with me a long time), Streamlight ProTac HL3 (1100 lumen), Oakley sports glasses, prescription.
Not shown, Gerber multi-tool – occasional carry, OC spray (occasional carry), and 550 cord (also occasional carry).  The guns may change depending upon circumstances, but I always try to carry a tactical light on every trip, even to the movie theater as I did not too long ago (especially to the movie theater where it is otherwise dark and high lumen means control of the environment).
The small gun is perfect for the movie theater and grocery store since it is ankle carry, the larger gun (whichever one I carry) is more likely to go outside the waist band (not very often concealed IWB), with the belt.  The 1911 has a more slender profile than the XDm being single stack, and I've carried it before, as well as other pistols (I prefer to shoot the 1911 to anything else due to balance and profile).  Sometimes it (the larger handgun) will stay in the car, meaning that I have only a single gun, with a tactical folder as backup.
Given the state of affairs today, everyone ought to think hard about what they carry for self defense and protection of their family.  I consider this battle rattle to be very soft and luxurious.  When conditions become steadily worse as the economy collapses, this will necessarily change with the times.