BY Herschel Smith

6 months, 1 week ago
STATEN ISLAND, N.Y. — The NYPD posted a photo on social media of a rifle and bullets that were seized during a domestic incident in New Springville.

Domestic Violence and Field Intelligence officers found the gun and ammunition during a home visit, according to the 121st Precinct Twitter feed.

The officers were conducting a home visit in the vicinity of Windham Loop and Marsh Avenue on Monday when they were made aware of a gun that was not registered, according to a spokeswoman for the NYPD's Deputy Commissioner of Public Information.

No arrests were made and the weapon was confiscated, the police spokeswoman said.

A verbal dispute between a husband and wife prompted the visit from the Domestic Violence officers, according to a source with knowledge of the investigation.

The husband had failed to re-register the hunting rifle, the source said.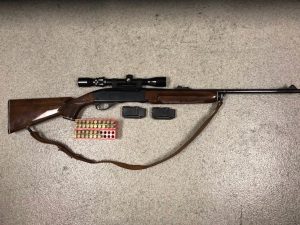 It's hard to tell what the rifle is, but it's not a rimfire gun.  It's a carbine of some sort, but some reader can help with this I'm sure.
This is what we're reduced to – the NYPD posting pictures to Twitter with hashtag #OneLessGun.  Proudly, no less.
Despicable.  Nothing good ever comes from calling the police to your home.  Why did they do that over an argument?  Why?