BY Herschel Smith

10 months ago
All of Puerto Rico has lost power after deadly Hurricane Maria swept through the island on Wednesday – with winds that blew the roofs off homes and flash floods that turned roads into rivers.

Leaving at least nine people dead in its wake across the Caribbean, Hurricane Maria blew ashore in the morning in the southeast coastal town of Yabucoa as a Category 4 storm with winds of 155 mph.

While the eye of the storm has since moved off the island and weakened to a Category 2 hurricane, it's expected to continue lashing the island of 3.4million with life-threatening winds, storm surge and rain through this evening.

'Once we're able to go outside, we're going to find our island destroyed,' said Abner Gomez, Puerto Rico's emergency management director. 'The information we have received is not encouraging. It's a system that has destroyed everything in its path.'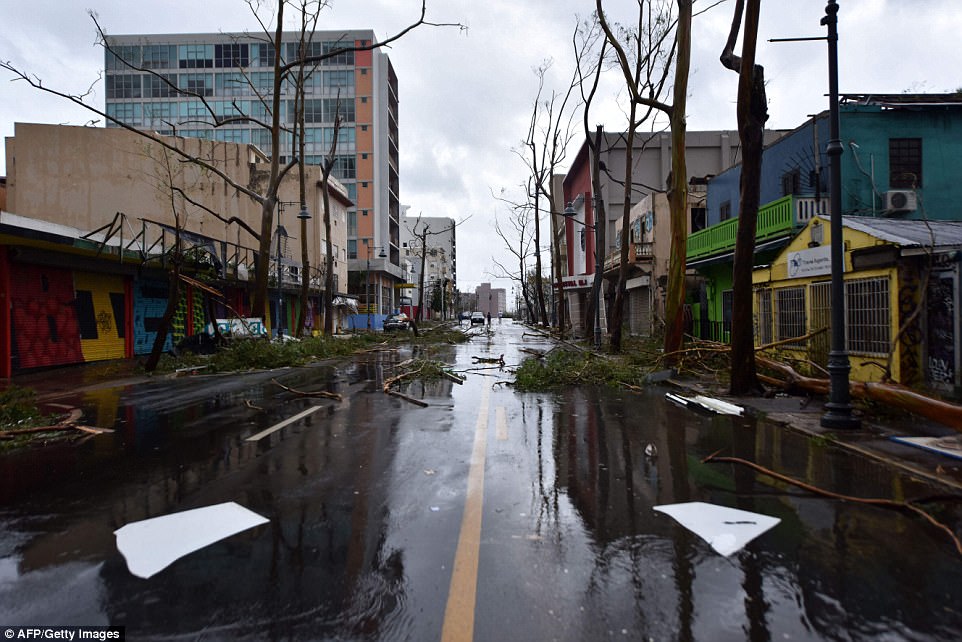 It looks like dystopia, doesn't it?
Two weeks ago it was a hard week trying to prepare for Hurricane Irma.  We managed to find a Generac 5500 generator when almost all generators had been sent to Texas.  Gas lines were long and prices were elevated, and gas cans were triple the cost from a month prior.  And then they were gone.  So it didn't matter whether you could buy gas – you couldn't store it.
We had to think about batteries, perishable food, trying to get non-perishable food, potable water, dog food (have you considered your beasts in the event of something like this?), and on and on the list goes.  To some extent we had the non-perishable food situation handled, but not well enough for my future comfort level.
I lived through Hurricane Hugo, and was without power for two weeks.  I wasn't prepared for it either.  At the time it rolled through I was preparing for the engineering PE examination.  The exam date in October wasn't going to change because of the storm, so I had to redeem the time.
I lined my kitchen table with candles and worked PE review problems for two weeks by candlelight (old school, pen and paper).  But I wasn't going to relive my Hugo experience unprepared, so we worked hard to prepare.  I consider Hurricane Irma yet another warning shot over the bow.
For the future, we need to be thinking about more than just guns and ammunition (although that's first on the list).  We need to think long term survival in the form of food caches, freeze-dried foods, large scale water filtration rather than the small scale I currently have, and you could probably add endlessly to this list.  Feel free to do so in the comments.
I am of the considered opinion that a hurricane is the least of our worries when considering the ills that may befall us in the future.  Puerto Rico won't rebuild for years, and won't have power for more than half a year, if then.  Are you prepared for an attack on our electrical grid?  For civil strife and/or civil war?  For contamination of our water supplies?  For a run on the banks and a completely devalued dollar?
No, neither am I.  Not as well as I ought to be.