BY Herschel Smith

10 months, 3 weeks ago
A California gun store owner was reprimanded by the cops after waving an AR-15 cardboard cutout outside of his business to draw in customers, according to a report by ABC10 News in Oceanside, Calif.

Brendan Von, a Marine veteran, started waving the large, cardboard sign in front of his store, "Firearms Unknown," last fall during Black Friday shopping. The store told CNSNews.com today that it uses the sign "on a regular basis."

According to ABC 10, some people assumed the over-sized gun-sign was real, prompting complaints and even a visit from the local police.

A local woman told ABC 10 that she believed the sign was over the top.

"It looks like a machine gun, it is pretty aggressive," she said. "I think he's doing too much, but then again, they do have the freedom to do that."

"A couple people just going by, flipping me the bird," said Von, the store owner.  "Either scolding me or yelling some type of obscenity."

"It kind of frustrated me that somebody would call [the police] and make a false statement like that, knowing that it is a cardboard sign that is very flimsy," he said.

According to the ABC report, Von said the police asked him to stop or change the sign and after he refused, the police left.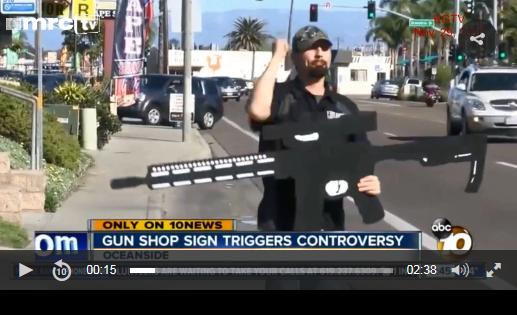 The sad part about this isn't so much the woman to whom we have to say, "Get thee to thy fainting couch."  I would expect this from California.
The sad part is that the LEOs would actually ask him to stop.  When he refused, they had no recourse except to leave, since demanding what they did was illegal.
Then again, I confess that I've come to expect this from LEOs too.
How sad.