BY Herschel Smith

11 months, 1 week ago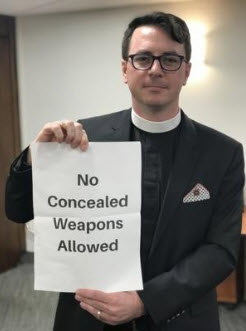 Religious leaders across denominations spoke out in St. Louis on Wednesday against pending legislation that would allow concealed weapons in places of worship in Missouri without permission of the clergy.

"The bill would broaden Second Amendment rights at the expense of the First Amendment right of religious liberty," said Most Rev. Robert Carlson, archbishop of St. Louis, who presides over some 500,000 Roman Catholics in the region.
Carlson was joined at a press conference by eight religious leaders representing the Jewish, Episcopalian, Methodist, Baptist and Evangelical Lutheran faiths, among others.

The clergy members specified opposition to one bill in particular: House Bill 1936 which would expand the places where concealed weapons are allowed.

The bill has passed two House committee votes along party lines. Republicans voted yes. Democrats voted no. The bill's sponsor, Rep. Jered Taylor, R-Nixa, did not immediately return a request for comment Wednesday.
The legislation aims to end "gun-free zones" where concealed weapons are restricted, including places of worship, college buildings, public hospitals, voting polls, amusement parks, casinos and bars.

[ … ]

Under current law, a person must get permission from a member of the clergy at a religious institution in order to carry a weapon into the place of worship. The new law would allow for the legal carry of a concealed weapon unless a sign banning weapons is prominently displayed.
What a strange thing.  The law doesn't mandate that churches allow weapons, and since this is private property I support that because I support property rights.
What the law does is force them to post since this property usually comes with understood open invitations to join the services.  In other words, the "clergy" here doesn't want the public to know their position, or at least be forced to wonder.
Perhaps they also don't like the fact that in an ironic twist they are announcing the fact that they have decided to leave themselves without protection of any kind and thus a shooting gallery for would-be perpetrators.
I think it's a wonderful thing that congregants and parishioners can now tell if they should enter at their own risk as soon as they set foot on the property.  I think it's sad that the rest of the folk have been left with no protection.
These clergy aren't clergy at all.  The churches are open sepulchers with dead men preaching to dead congregants.  They have no wisdom, no discernment, and couldn't care less about the law of God, the pinnacle of which is the law of love, or protecting and caring for those around you.