BY Herschel Smith

9 months, 2 weeks ago
More than a hundred years after Colt's successful line of cavalry pistols the company released a new revolver: the Colt Python. One of seven mid-20th century Colt handguns named after snakes, the Python was introduced in 1955. The Python was a beefy, all steel and wood revolver chambered in .357 Magnum. The revolver had a six-shot cylinder and originally came with either a bright nickel or royal blue finish.

The Python was exactly what people imagined a revolver to be. The Python had a slightly oversized, stout .41 caliber frame with beautiful, beveled edges. The trigger well was large and capable of accommodating gloved fingers. The revolver was most commonly sold with a six-inch barrel, although two, three, four, and eight-inch barrels were also available.

The barrel was the Python's most defining and beautiful feature. A full length ventilated rib ran the length of the barrel, all the way to the muzzle, leading to the front iron sights. This was complemented by a full length underlug with a knurled ejector rod tastefully nestled inside. The result was a barrel that at first glance looked outsized, as though it was a larger caliber than it really was.

Pythons were made the old fashioned way, by hand, when as one gun writer put it, "technology was relatively expensive and labor was comparatively cheap." Parts were fitted by hand by skilled machinists who could take the time to tweak and polish the fifty-seven parts that made up a Colt Python until it ran like a watch. The Python may have been the last mass-produced handgun built with a nod to Old World craftsmanship.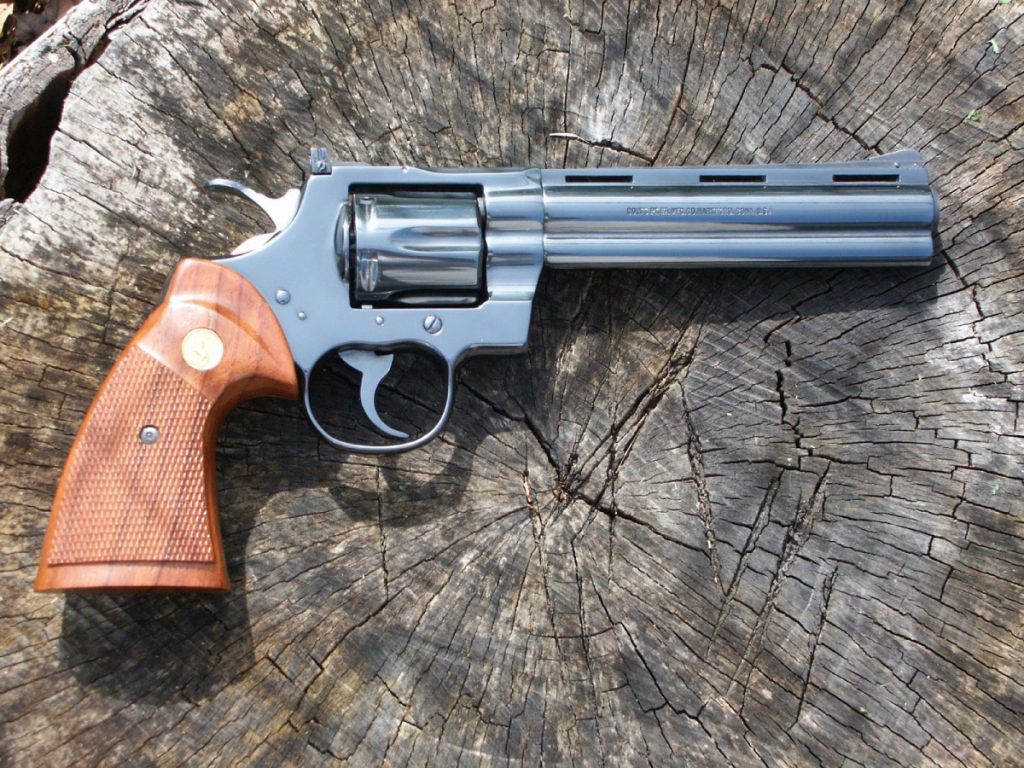 I don't know.  The Smith & Wesson Performance Center makes a pretty fine revolver, and I've really liked my Ruger GP100.  It's trigger is as good as any wheel gun made by Smith.
With that said, I've never shot a Colt Python.  It's too rich for my wallet, the lowest starting at just under $3000, and going up to more than $6000 for pristine condition.  I will probably never in my life shoot such a gun.
Here's an interesting and humorous story for readers.  I have a very dear friend, who had a very dear wife, and we were visiting with them talking and showing guns and grilling steaks one evening.  It was when I did the cheap plastic gun scene and before I threw them all away (traded them in) for nice 1911s and wheel guns.
My dear friend trots out a beautiful Colt Python, SS 6″ barrel, in a beautiful Walnut case, and it had never been shot (except for the obligatory shot by the gunsmith).  It was in pristine condition.  My mouth fell open and I put my cheap plastic gun away.
The humorous part is the story behind it.  One day his wife wanted to kill a snake in their back yard, and he arrived home to find his wife sporting a gun, ready to shoot.  The gun she chose was that Colt Python, and it was a black snake.  My friend managed to stop her by shouting her down.  Don't ever touch that gun, and don't shoot black snakes.
And thus he saved several thousand dollars by preventing a single shot.  And that Colt Python is still in pristine condition.  And I'll still never have one.