BY Herschel Smith

5 years, 2 months ago
In the ongoing silliness that is gun control in Illinois, the Lt. Governor is meeting with a gaggle of politicians to talk over more issues in gun control.  Yes, even after being battered by the recent appeals court ruling, they're not giving up the ghost.  They are statists until the bitter end – being bitter clingers as they are.
Anyway, this report on the meeting has an awful photograph.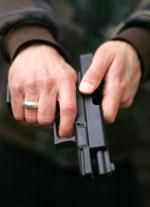 Gun owners.  Do not ever, ever do this.  This is bad.  This is very bad.  He has his index finger inside the trigger guard while he is cycling the slide.  If he continues to do this, he should sell his gun.
This is better.